David Attenborough and other renowned conservation figures have urged PM Gillard to retain National Environment Powers. At the moment changes devolving major decision making to our growth-mad developer states are imminent. The writers of a letter to the Primeminister say that their concern arises particularly due to Australia being "one of a very few biologically mega-diverse developed countries on the face of this Earth. The array of natural ecosystems and their component species is simply breathtaking, making Australia one of the most important and exciting places in the world for the long-term conservation of biological diversity." See also this article which contains links to petitions etc.
Sir David Attenborough urges Prime Minister not to abandon National Environment Powers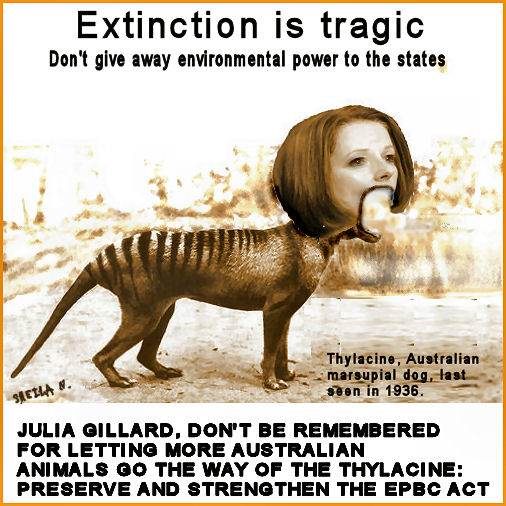 Today, 23 November, 2012, 33 United Nations Environment Program Global 500 Laureates (elected to the UNEP Global 500 Roll of Honour in recognition of outstanding practical achievement in the protection of the environment) delivered Prime Minister Gillard a letter urging her not to abandon national environmental protection and devolve powers to state and territory Governments.