On Friday 15 February 2013 at approximately 12:30 pm The Rgt. Hon. Lord Mayor of Melbourne Robert Doyle  (actually a "stand in")  graciously "opened" Doyle's Dunny at the entrance to the Australian Native Garden in Royal Park.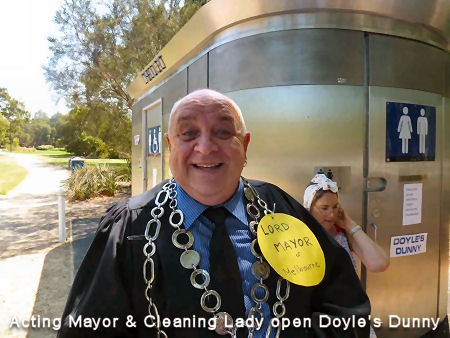 Rod Quantock, Acting President Protectors of Public Lands Victoria Inc. and Deputy Convenor Royal Park Protection Group Inc., served as MC for the occasion and Marg, a cleaning lady,  attended the ceremony ready to clean the facility. (See attached photos.) 
Also attending were numbers of PPL VIC and RPPG supporters.
Unfortunately the convenience was not "operational" and a notice on the doors gave apologies "for any inconvenience" to the public. Work on the facility was completed weeks ago so we ask - what is the problem?  
Attached are photos of the occasion and  our earlier press release. Copies of the Lord Mayor's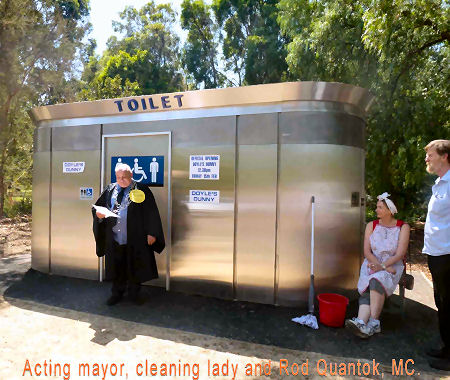 speech are available on request (to me).The Doyle's Dunny opening may be covered on the Melbourne Times Weekly so look out for it next week or the week after. Thanks to all who attended this event and stayed to drink a champagne toast to the Lord Mayor.