http://www.dailyadvertiser.com.au/news/local/news/general/commercial-roo-culling-denied/1914968.aspx
KANGAROOS in the Wagga district were given a temporary reprieve by a council standing committee after it voted against commercial culling.
The Hume Livestock Health and Pest Authority (LHPA) is hoping to expand the area in which kangaroos can be commercially killed to include land surrounding the city of Wagga.
The pest authority had asked Wagga City Council for in- principle support for the expansion when it makes its submission to the NSW Department of Environment, Climate Change and Water. However Greens Councillor Ray Goodlass, the chair of the standing committee, spoke strongly against the concept and got plenty of support when it was put to a vote.
Wonderful! Finally a council speaks out on behalf of our maligned national icon.
Cr Goodlass said:
"I'm not in favour of this, I don't see how it is necessary. However accurate a marksman is, I think shooting a kangaroo in the head is inhumane."
The simple truth of this is lost on most people. Of course it's not humane! That animal wanted to live just like you and I want to live. Most likely it had family that it loved who were impoverished by its demise.
The sad truth is that 30% of kangaroos are left in the field* because if they are not clean headshots they are not accepted by the industry which prides itself on being 'humane'. That means the animals died in agony. Some kangaroos are shot in the face, not in the brain. In those cases they hop away to die in agony of gangrene and starvation, uncounted in the annual kill statistics.
Not only is shooting a kangaroo in the head inhumane, the way their joeys are killed is even more inhumane. In-pouch joeys are bashed to death against a truck, decapitated with a knife or stomped to death. The at-foot joeys fare no better and die of starvation, predation, stress or hypothermia. Since 80% of the kangaroos killed are females*, the number of joeys killed each year is estimated at minimum 1 million.
To see footage of kangaroo slaughter go to http://youtube.com/watch?v=zcMkNYOBvW8
How can we keep doing this to such beautiful animals?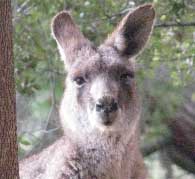 Deputy Mayor Lindsay Vidler, who argued for the case of the Hume LHPA, said kangaroos were a huge problem for road users in the district. He claimed they were "out of control, causing car accidents." He said he preferred controlled killing to indiscriminate shooting but when it came to a vote, he was on his own in support of commercial culling.
Solution to Killing Kangaroos
Perhaps Cr Vidler could check the work of Pip Chalk who is writing a thesis on human-kangaroo interface based on a research project she did in the Hawkesbury district where she concluded that in spite of the fact that conflicts existed between the two species, the locals were willing to learn to peacefully co-exist because they didn't want to see them gone. http://www.awms.org.nz/Files/newsletters/v22i2.pdf (p.4)
More Money to be Made in Nature-Based Tourism than Kangaroo Killing
And perhaps also Wagga council could encourage residents to appreciate kangaroos? Would farmers be willing to have home-stay programs for international tourists who would love to see kangaroos? According to Sustainable Tourism Cooperative Research Centre (STCRC) 18.3% of our international tourists are attracted to Australia singularly because of its wildlife with 67.5% of all international tourists wanting to see our native animals. A $25.2 billion dollar expenditure by these same travellers equates to between $2.7 billion and $5.5 billion of value from tourism with wildlife, especially kangaroos as the most popular fauna. Since commercial kangaroo industry is valued at only $250 million, this means that kangaroos are worth more alive than dead.
Watchable Wildlife Inc. (USA) and the Tourism Research Australia as well as the Australian Bureau of Statistics, backed up by The Australia Institute and the STCRC, support the sustainable economic value of wildlife viewing. Wildlife tourists consume goods, services, guide books, binoculars, video cameras, telescopes, equipment and outdoor clothing. Food and accommodation alone employ over 410,589 persons. Then there is petrol, diesel for bus operators, employment to wildlife managers, guides, and general or specialist tourism operators. All are at the high end of the tourist spending pattern. http://www.rootourism.com/fback10.htm
Steve McLeod (2004) found that Australian wildlife created more than 14,000 jobs in the tourist industry and estimated that the 'costs' associated with kangaroos, such as loss of production, vehicle damage, research etc. amounted to only $76 million.
Perhaps kangaroos are the goose that lays the golden egg of tourism to ailing rural economies?
Reducing Roadkill
As for reducing the likelihood of roadkill, Wagga council could
1. Recommend drivers install a device that emits a high pitch that only animals can hear to alert them of the approach of a car http://www.shuroo.com.au
2. Erect more road signs alerting drivers to slow down especially around dawn and dusk
3. Enlist farmers, graziers and landholders to give part of their land as a wildlife corridor so that kangaroos are not forced to graze by the side of the road where they often run in front of cars when frightened. If there were enough wildlife corridors, kangaroos could traverse to other areas safely without having to venture near cars, to the detriment of both themselves and the drivers.
Conclusion

Although the standing committee's refusal to endorse Hume LHPA's proposal will no doubt be a blow to the pest authority's submission to the Department of Environment, it is still possible that it will be approved and commercial culling will become a reality in the district.
Hopefully other councils will follow Wagga Wagga council's shining example and do everything in their power to save our national icon. ( http://www.stopkangarookilling.org )
Note: Australian Wildlife Protection Council ( http://www.awpc.org ) has sent a Certificate of Recognition to Wagga Council for their outstanding accomplishment in being the first Australian council in history to stand up for kangaroo protection.
References
70-80% kangaroos shot female - http://animal-lib.org.au/campaigns/120-kangaroo-campaign.html