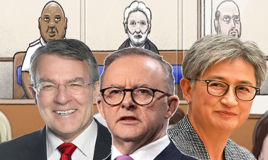 I posted the following letter to Prime Minister Anthony Albanese, Foreign Minister Penny Wong and the Attorney-General Mark Dreyfus at around 11:00am on Thursday 7 April during a protest for Julian Assange outside the electoral office of Mark Dreyfus in the Melbourne suburb of Mordialloc. I had hoped to hand a copy of this letter to Mark Dreyfus in person or, at least, to a member of his staff, but his office was unattended. For security reasons, as explained to me by a member of the Federal Police, there was no slot through which I could put the letter, so I had to send the letter through the mail. I expect that my letter would have been received in Mark Dreyfus' office the next day and that my letters to Anthony Albanese and Penny Wong will arrive on Tuesday 11 April following the Easter long Weekend. I have also e-mailed this letter, with the subject Please act humanely now to end the illegal imprisonment of Julian Assange, and sent CC copies to members of the Bring Julian Assange Home Parliamentary Support Group.
Dear Attorney-General Mark Dreyfus, Prime Minister Anthony Albanese and Foreign Minister Senator Penny Wong,
Late last year on 30 November 2022, when asked by Dr. Monique Ryan during Question Time, "Will the government intervene to bring Mr Assange home?" Prime Minister Anthony Albanese responded, "I [can] assure [Dr. Ryan] that I have raised this personally with representatives of the United States government." and "I will continue to advocate, as I did recently in meetings that I have held."
Then, 4 weeks later on 28 December at the Woodford Folk Festival, when Jenni, a young disabled female supporter of Julian Assange asked the Prime Minister a similar question, in his response, he said, "We don't have the power by ourselves to intervene in the legal processes of another country, in this case the United States or indeed the United Kingdom."
In his earlier response to Dr. Monique Ryan, the Prime Minister, curiously, did not claim that the Australian government doesn't "have the power" to make the UK free Assange. I believe that this is because Prime Minister Albanese fully understands that he could make British Prime Minister Rishi Sunak free Julian Assange today if he chose to. He could simply 'phone Sunak and tell him, "You are illegally holding in prison an Australian citizen who has broken no British law. Release him now!" Sunak would almost certainly comply immediately and Julian Assange would be free today to be with his wife Stella and their two children. However, Prime Minister Albanese has chosen not to do this.
Foreign Minister won't say if PM raised issue of Assange in recent talks with Biden and Sunak
Then, on 30 March, following the Prime Minister's most recent overseas visit to the United States, Foreign Minister Senator Penny Wong refused to answer a direct question from Senator David Shoebridge, "Did the Prime Minister raise the ongoing prosecution and detention of Julian Assange with President Biden during their meeting on 14 March this year?"
I can only assume from this that, contrary to what he told Dr. Ryan on 30 November, the Prime Minister, yet again, failed to even broach the subject of Julian Assange when he spoke to President Biden.
Whilst not answering Senator Shoebridge's question, Senator Penny Wong, repeated the earlier claim made by the PM, when she said, "We are not able, as an Australian government, to intervene in another country's legal or court processes." Senator Wong then repeated that assertion five more times, but failed to answer Senator Shoebridge's question.
So, has your government even taken the effort to inform itself of the 'legal processes' in the United Kingdom that it cannot bring itself to 'intervene' in?
The fact remains that Julian Assange has broken no British law, yet remains imprisoned in solitary confinement for 23 hours per day. Had you followed the 'legal processes' to which Julian Assange has been subjected, you would surely know that the principal prosecution witness Sigurdur Thordarson admitted that he lied when he gave evidence against Julian Assange, yet Assange's legal team were not able to effectively cross-examine him when he perjured himself in court.
No judge, with any integrity, could possibly have tried Assange in the way he was tried, kept him locked away in solitary confinement, so far, for four years, and ruled that he be extradited to face, in the US, for the rest his life, conditions even worse than what he has been made to endure in London's Belmarsh Prison.
Furthermore, there is no way that any fairly selected jury would have allowed Assange to remain in prison even for one day. Only a thoroughly corrupt Magistrate, under direct orders from the UK government, could have made those rulings against Julian Assange.
The conduct of the British government has not only been monstrous but, if allowed to stand by your Government, will establish a precedent, whereby, at its whim, the US government will be able to have extradited, from most parts of the world, any journalist, or indeed anybody, whom it deems to threaten its vested interests.
More than 20 million killed in wars started by the US since the end of Second World War
By some estimates, the United States, since the end of the Second World War, has killed, in Korea, Vietnam, Iraq, Libya, Afghanistan, Syria, Yemen, Indonesia, El Salvador, Gutemala, Chile and elsewhere, more than 20 million people. Many of these wars, all of which which were justified by the sort of lies that Julian Assange's Wikileaks news service exposed, are continuing even today.
At least three of the United States' own political leaders who opposed these wars - JFK, his brother Robert F. Kennedy and Martin Luther King - died in circumstances which, at best, can be described as very suspicious.
This surely shows that humankind urgently needs critical investigative journalism, such as which Julian Assange and his Wikileaks news service made possible.
Please act now to bring to an end the illegal imprisonment and torture of Assange
I don't know how any person of good will would not do all that he/she is able to end the imprisonment and torture of Julian Assange. So, I urge all three of you, now, to phone your counterparts in the UK government and tell them, or, at least urge them, to release Assange immediately. I also urge all three of you to similarly contact your counterparts in the US government and similarly demand they desist from their illegal efforts to extradite Assange.
Should either the US or the UK not comply, then you would have recourse to the International Criminal Court, the United Nations, and to international pubic opinion, which is overwhelmingly on the side of Julian Assange. The legal and political consequences for both the UK and the US would be catastrophic.
At least allow the plight of Julian Assange to be debated in Parliament
Should you still, in spite of all that I have written above, choose not to act, as I have urged you to, could you, at least, facilitate a debate in Parliament about Julian Assange? How would this not allow you to show that those 40 members of the "Bring Julian Assange Home Parliamentary Support Group" and myself are wrong about Julian Assange?
One way to facilitate such a debate would be by allowing independent Member Andrew Wilkie to put the foreshadowed motion that he attempted unsuccessfully to put on 2 December 2021 would be. I include Andrew Wilkie's foreshadowed motion below as an Appendix.
Surely, then if you are all correct in what you you have said, and I am wrong, you would have little difficulty in showing this to other MPs and Senators during the course of the ensuing debate. (5/4/2023)
Yours faithfully, James Sinnamon
Appendix - Andrew Wilkie's December 2021 foreshadowed motion in support of Julian Assange
That the House:
(1) notes that:
(a) Walkley Award winning Australian journalist, Mr Julian Assange, remains incarcerated in HMP Belmarsh in the United Kingdom, despite a British Court earlier this year finding that Mr Assange could not be extradited to the United States of America for health reasons;
(b) the US continues to pursue Mr Assange and has recently been back in court in the UK appealing the earlier decision to refuse the extradition;
(c) the reason for the US's determination to extradite Mr Assange is limited to Wikileaks' exposes in 2010 and 2011 of US war crimes and other misconduct in Iraq and Afghanistan, and in Guantanamo Bay, including the release of the 'Collateral Murder' video in which a US helicopter in Iraq gunned down innocent civilians including journalists;
(d) recent revelations in the media show the Central Intelligence Agency developed plans to abduct and assassinate Mr Assange; and
(e) the continuing incarceration of Mr Assange, and any extradition to the US, would not only be a grave injustice but a severe threat to his health and life; and
(2) calls on the Prime Minister to:
(a) speak directly with his counterparts in the US and UK to bring an end to this madness, including the US dropping all charges against Mr Assange and the UK allowing his immediate release; and
(b) commit to not allow the extradition of Mr Assange to the US from Australia.