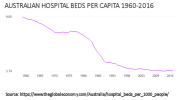 In 1960 Australia had 9.65 hospital beds per 1000 people. This number shrank to 3.84 hospital beds in 2016, with  a low in 2013 of 3.74. A very slight increase to 3.9 beds per 1000 people in 2017-2018. Between 1960 and 2021 Australia's population grew from 10.28 million to 25.69 million people. This is a growth of 150.0 percent in 61 years.
Australia compares poorly to a world average per capita for hospital beds, which is 4.53 calculated from 41 countries, according to the OECD.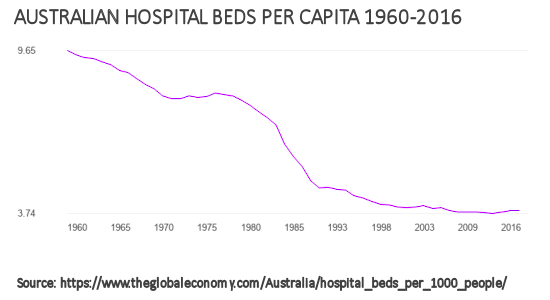 Australia is not keeping up with population growth. Hospitals around the country are not coping now. What's going to happen over the next year when 500,000 new people turn up? Plus these figures take into account all hospital beds, both public and private.
Data for Australian hospital beds from 1960 to 2016.
The average value for Australia during that period was 6.18 hospital beds with a minimum of 3.74 hospital beds in 2013 and a maximum of 9.65 hospital beds in 1960. We have adapted a graph of the decline from the link https://www.theglobaleconomy.com/Australia/hospital_beds_per_1000_people/
Between 2013–14 and 2017–18, public hospital bed numbers rose by an average of 1.3% per year, from 58,600 to almost 62,000 beds—significantly less than the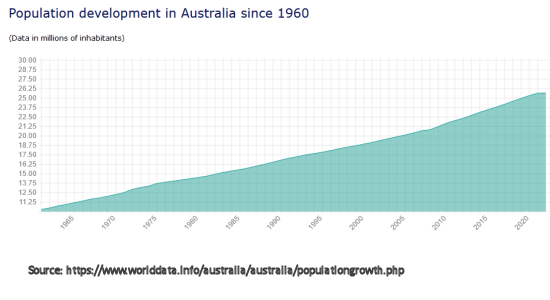 average annual increase in public hospitalisations (and private hospitalisations) over the same period. Between 2012–13 and 2016–17, the number of hospitalisations rose by an average of 4.3% each year for public hospitals and 3.6% each year for private hospitals, according to The Australian Institute of Health and Welfare.
In 2017–18, Australia had 3.9 beds per 1,000 population in public and private hospitals compared with an average of 4.7 beds per 1,000 population for countries analysed by the Organisation for Economic Co-operation and Development (OECD) and ranked in the middle of the 35 OECD and other selected countries.
https://www.aihw.gov.au/reports/hospitals/hospital-resources-2017-18-ahs/contents/hospitals-and-average-available-beds
Whilst one might point to COVID 19 as a recent factor in hospitalisations, this is a long-term trend.
Healthcare quality for Australians has declined rapidly since 2000 whilst the population has continued to rapidly increase. Healthcare quality is widely expected to get worse due to the federal government not wanting to spend money on health or more hospital beds, and the huge increase in the number of immigration visas issued this year.