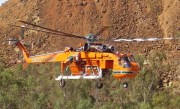 Erickson Aircrane Flynn
Courtesy: G. Brooks, January 2009.
['Flynn' part of record CFS fleet']
It took many bushfires over many decades, but in December 2008, South Australia's Premier Mike Rann started seriously committing to Aerial Bushfire Fighting by securing an Erickson Aircrane water bombing aircraft being based in South Australia during the Fire Danger Season. The Erickson Aircrane, nicknamed 'Flynn' is now part of a serious CFS fleet of 15 fire-fighting dedicated aircraft with standby crews as Premier Rann says "to improve the capacity and flexibility of the Country Fire Service to respond to potentially threatening bushfires."
The Erickson Aircrane, is capable of carrying 7,500 litres of water (freshwater or seawater) and has been proven an effective response and support to 'bolster' ground bushfire fighting crews in Europe, the US and in Canada. "In the past we've had to rely on an Erickson Aircrane from interstate but now we can call on this aircraft when needed at short notice." Mr Rann said.
Although Victoria and New South Wales have long had their own Erickson Aircranes and access to other fire fighting aircraft, the scale and number of major bushfires in these two states over recent decades has far outsurpassed the bushfires of South Australia. Similarly, the population sizes and government budgets of both Victoria and NSW far exceed that of South Australia. So why has Victoria and NSW lagged behind in proportional terms with its airborne bushfire fighting capacity?
What is significant coming from South Australia is the Premier of that State declaring: "The State Government recognises its responsibility to provide the best and most effective resources to protect South Australia's urban fringe and rural communities from bushfires and consistently continues to deliver on this pledge" and his commitment to aerial fire-fighting and bushfire surveillance and his government's recognition that an effective airborne unit can "help accelerate the response times to bushfires!"
Now as a result, bushfire fighting results are coming out of CFS South Australia like that reported by the media below...
[The following extracts from an article by Doug Robertson, Joanna Vaughan and Frances Stewart on AdelaideNow.com.au, 15 March 2008]


'CFS hit heatwave fires hard and early!'
"THE CFS heatwave strategy to strike quickly and with everything has averted a series of potential disasters during our most extreme fire danger period.
Praise yesterday was being heaped on the firefighting force's ferocious attack on fires at Williamstown, Balhannah and Willunga.
The plan – to throw as many people and resources as possible at a fire in its first 30 minutes – kept the SA's three-day fire-damage toll to less than 200ha, one home and only minor injuries.
It is a reflection of lessons learned in the devastating Eyre Peninsula Black Tuesday fires in 2005 and the recommendations handed down in a coronial inquest into that fire.
After 12 days of a record heatwave, firefighters were warned earlier this week that the dry landscape was ready to burn and if a fire had not been controlled within the first 30 minutes, it could spread into a disaster. In a clear example of the rapid response, fire crews yesterday were able to extinguish a "fast-moving" grass fire near Balhannah after only 20 minutes.
Strong winds swept the fire towards Nairne but it was contained to only 8.2ha after several resources, including 120 firefighters, two fixed-winged water bombers, an air crane and two aerial observation aircraft, were thrown at it. The fire at Willunga that destroyed a house, injured nine firefighters and burnt through 153ha, was officially contained yesterday. More than 220 fire fighters were supported by five fixed-winged aerial bombers, one air crane and two aerial observation aircraft. The planes refilled in three minutes and averaged a nine-minute turn-around to the drop site at the height of the bushfire on Thursday.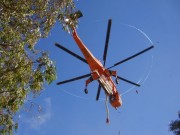 Erickson Aircrane Flynn
Courtesy: G. Brooks, January 2009

The two air-tractor aircraft carried 3200 litres of foam and three AT-602s – brought in from Port Lincoln – filled up at Woodside and each made more than 25 drops on the fire ground in about five hours. "With the fire behaviour we have seen in Willunga and Williamstown, if there hadn't been such a significant response in terms of numbers and time they spent on the ground, these fires would have taken off and threatened communities far further afield than the areas they have been restricted to."
"When everything works together, it's amazing. The fire bombers are so important helping fight the fires; they help the guys on the ground so much." Australian Maritime Resources chief pilot Peter Bidstrup said the aerial bombers needed the CFS volunteers on the ground to be fully effective.
"We're airborne within two minutes of a page, typically, and able to respond two AT-802 (aircraft) with 3200 litres each anywhere in the Adelaide Hills within 15 minutes," he said. "That gets 6400 litres of foam on to the fire and the idea is to get it on when it's small."
- - - - - - - - - - - -
Surely this must send a stark lesson to the Premiers of Victoria and NSW and to the respective bushfire fighting Boards and Executive of Victoria's CFA and NSW's RFS. If only the volunteers in those states could receive what those in the CFS do.