The Australian outback town of Mitchell lies in the Western Downs region of southern Queensland on the Warrego Highway just shy of 600 km west of Brisbane on the way to Charleville. Situated on the Maranoa River, the town of Mitchell was named in honour of the 19th Century explorer, and the town emerged as a pastoral town out of the farming of grains, beef and sheep. Tourism has become a strong drawcard to Mitchell and especially to its Great Artesian Spa.
But more recently, Mitchell's fame has been lowered to infamy with it taking on a reputation for becoming the home of the kangaroo slaughter trade.
"You see a lot of utes in Mitchell and the towns just like it that emerge from the roadside only to disppear again as you drive west through southern Queensland on the Warrego Highway. You can tell the ones that are driven by kangaroo shooters. They have racks for guns and long spikes upon which the freshly eviscerated carcasses are placed. One, parked just around the corner, has black steel bullbars with the words "roo raper" cut into them."
Besides the slaughter of Australia's iconic kangaroos for pet meat and indeed export for human consumption in fancy restaurant, it is the sanitary conditions that is shocking and a life threatening time bomb. Following the international biolab standards of Silliker, animal liberation chief, Mark Pearson says "the last time we did swabs here and in Charleville, they were alarmingly high in E.coli."
'The chiller doors aren't locked. When Ben-Ami opens the first, problems are immediately apparent. Bright drips from fresh kills are spotting onto another layer of older, duller, deader blood, which is particularly thick nearest the front. The lip of the door frame is so thick and sticky, the red's turned a dull, dark brown. Hairs are stuck to it.
'The carcasses are packed as tightly as possible. They hang from hooks by their legs, their heads and tails missing,gaping rents where their stomachs once were, leg muscles tensed visibly; severed necks poke into gut cavities; hundreds of paws hang in a grisly reach towards the bloody floor. According to their tags, they're four days dead.
"These are quite young ones, heads cut off quite low," Pearson says, pointing to a nub of spine that's jutting out just above the shoulder. "Most of them are cut too far back." To decapitate in this way requires significantly more effort than using the traditional method, with a slice directly beloiw the jawline. It also makes bad financial sense to remove most of the neck , as harvesters are paid by weight. Proof, claim the activists, that an illegal shot in the jaw or neck has been covered up.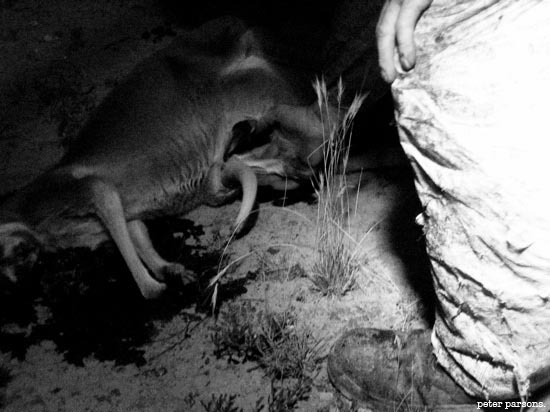 'Pearson points to the floor. "They're bringing in new carcasses and hanging them above the floor, which has blood from old carcasses. Blood is a Petri dish for disease and contamination. This is a major breach of any export abattoir standards." he points to a small grey kangaroo that is caked elbow to paw in blood and dirt. "That's from the evisceration," he says. That's all supposed to fall to the ground. And don't forget, these would have been on the back [of a ute] for four, five, six hours, and it would have been 20 degrees. When you consider this is export meat...Uh-oh..."
Besides Mitchell, the roo rapers store their roo chillers at Charleville, Augathella and Blackall. The practice in outback Queensland is widespread.
To struggling towns in the outback like Mitchell, kangaroo meat is big business. "The Kangaroo Industry Industry Association of Australia says theirs is a business worth $270 million a year that directly employs about 4000 people" many in remote areas."
SOURCE: Sydney Morning Herald, Good Weekend, 23rd May 2009.
AusHunt, a website dedicated to hunting in Australia and it's hunters, advocates:
"Kangaroo shooting is a unique job and many people are involved in one way or another in Australia's kangaroo industry. My advice for the wannabe 'roo shooter? You'll need to make a few phone calls to chiller-box operators in various rural centers to evaluate the impact another 'roo shooter would have there. Then decide on a location. Before doing anything, take a week off work and go out with a qualified, professional 'roo shooter and see what is actually involved.
Australia's kangaroo industry is one of the only jobs in the world where a person can legally shoot wild animals fulltime for a living. Kangaroo shooting is a tough life with long hours, and a certain danger element. Depending on weather conditions (wind, rain), phases of the moon and drought, the kangaroo shooter may have a good or bad night. It can be a very irregular income earner.
Many shooters struggle to make money, some make a living, and a few make good profits of A$100,000/annum +. Dedication is the name of the game …. going out night after night and avoiding the temptations of the local pub. The upside is that the shooter is very independent and can lead an exciting outdoors life, totally using his wits, determination and shooting prowess to make money.
Okay, you like what you see and you've done your courses. Move to the rural center that you have selected and get a day job there, whether it be pumping gas or whatever. THEN, start looking around for properties on which to shoot and start off by shooting week-ends. See how you go, then move on to fulltime when you know that you can make money. Good luck!"


Kangaroo 'gourmet' recipe.