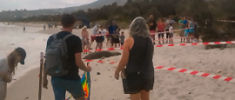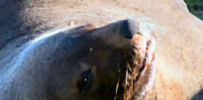 The Australian Wildlife Protection Council has serious concerns about the protection of seals on Mornington Peninsula beaches. Seals are a fascinating visitor to our beaches all year round, whether a regular inhabitant or the occasional day-tripper, they come to rest during the day after a night of feeding in the bay. But they are increasingly at threat of human interference when they rest on our busy beaches during the holiday season. Our pleas for help have fallen on deaf ears and our state government department the Department of Environment, Land, Water and Planning (DELWP), authorised to protect wildlife, is failing miserably when it comes to wildlife welfare and seal protection. They refuse to meet with ALL relevant stakeholders and fail to support wildlife volunteers to establish any kind of system to actively manage the situation.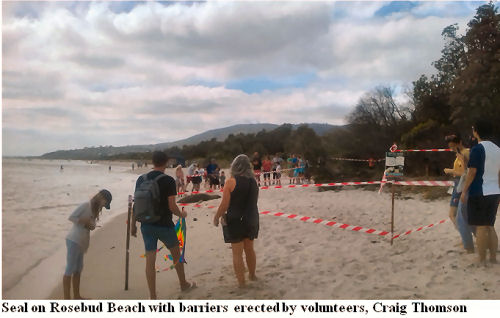 Threats to Seals
Over the past two years seals resting on Mornington Peninsula beaches have endured crowds of thousands of onlookers, dog attacks, jet ski harassment, drunken people riding on them, objects thrown at them, kicked, yelled at, poked and chased back into the water. The Mornington Peninsula community and local wildlife groups are very concerned that if the seals are not protected and a seal acts to protect itself, it may be seen as a risk to 'public safety' and DELWP may see fit to destroy the animal.
What the Seals Need
In order to ensure seals are protected into the future we need an urgent response from the authorities. We envisage an improvement to the current situation in a short space of time if several easy measures are undertaken:
1. We need an urgent meeting with ALL stakeholders, including volunteers, to establish a consensus as to who manages seals on particular stretches of beach.
2. Standard protocols for an action plan to be initiated when a seal arrives.
3. Communication systems, contact numbers of foreshore rangers (from foreshore Committees of Management (COMs), shire rangers and volunteers to be accessed when a seal arrives.
4. Several seal 'kits' to be stored along the coast for easy access when a seal needs protection. These kits should include, signage, tape barriers, stakes or bollards, brochures and a volunteer sign in sheet for insurance coverage etc. These 'kits' should be regularly replenished and kept in good order.
5. Permanent signage to educate the public seals and the regulations.
The AWPC is urging immediate action from the government on this matter.
Some Background
Who Manages the Protection of Seals?
DELWP do not attend to supervise resting seals, nor do shire council rangers or Parks Victoria rangers. Whilst the AGL Marine Response Unit (MRU) work to assess injured and entangled seals and travel far and wide to do this important work, they ordinarily do not attend to supervise uninjured, resting seals on public beaches. There are no current protocols, systems, reliable equipment or appropriate storage for equipment currently in place on the Mornington Peninsula.
For many years wildlife volunteers have been tirelessly responding to calls from the public when a seal arrives on a beach, they erect signage (to keep dogs away, listing the regulations and information about seals) and tape barriers around the seal to alert people of it's presence and to make sure it is not approached or harassed. Volunteers also provide useful information about seals and act as the eyes and ears supervising the safety of the seal and the public.
At the moment, apart from a few signs (without stakes) provided by DELWP and brochures, volunteers are purchasing equipment, stakes, tape etc. themselves and supervising seals on an ad hoc basis without any support from authorities.
Current Situation
DELWP and Foreshore Committee of Management Managed Beaches
When a seal rests on a beach on the Mornington Peninsula managed by a Committee of Management (under DELWP) rangers usually don't have equipment or manpower to supervise the seal. Rather than be supported, volunteers have been actively discouraged by DELWP from helping to supervise seals. DELWP have expressed concerns about e.g. lack of insurance coverage (a problem the AWPC found a solution for), lack of volunteer knowledge and 'non-regulation' stakes for signage.
According to Wildlife Victoria data there have been 171 volunteer call outs for seals from Edithvale to Portsea from December 2016- March 2018. With Wildlife Victoria being just one of the rescue services and receiving this many calls for seal help, it is very apparent that the need for seal protection is a regular occurrence.
So, whilst DELWP are very clearly the authority overseeing seals, they refuse to put systems in place, contract wildlife officers on the scene to ensure regulations are being adhered to and at the same time don't want volunteers to help either. If they won't or can't do their job, why are they not supporting volunteers to do this important work?
Mornington Peninsula Shire Council Managed Beaches
Similarly, if a seal is resting on a beach managed by the Shire, shire rangers have no equipment or signage nor any current protocols as to who manages the protection of the seal.
The shire's phone system currently redirects calls about resting seals onto local volunteers, who then have no equipment or support. Volunteers have no authority to enforce breaches of seal exclusion zones or uncontrolled dogs harassing seals, unlike DELWP or shire rangers.
Recent Cases
Wildlife groups are regularly called out to assess and supervise seals; here are accounts of just two recent cases to help illustrate the current issues we are faced with.
On Sunday the 11th of March 2018, a seal came to rest within a dog off-leash area of a Rosebud beach, a beach managed by the Mornington Shire Council. On the day there was a Kite Festival so there were hundreds of people on the beach. A member of the public who was worried about the number of dogs and people approaching the seal had called around some wildlife groups for help.
The AWPC had a volunteer attend the seal and we then immediately contacted the shire for assistance to erect signage and to help to keep dogs and people away.
Being a Sunday, we called the shire's after hours emergency phone line. The operator told us to contact volunteers (who we are); we had also reached out to other volunteer wildlife groups but no one else could attend. When we finally spoke to a shire ranger on duty we were told that rangers weren't authorised to help with seals and that it was in fact Parks Victoria that managed the beach up to the 'high tide mark' (where the seal was resting).
So we contacted Parks Victoria, who told us that they didn't deal with seals either and that seals were managed by DELWP, and so we went around in circles, as is the usual case. In the end we managed to rustle up some tape barriers and stakes and had volunteers supervise the seal until 10pm that night, the beach was still packed with tourists and dogs throughout the evening. The Shire failed to act and did not offer supervision for the seal, nor did they attempt to close off the beach to off-leash dogs or fine dog owners approaching the seal etc.
We sent a detailed account of this case to DELWP and the Shire but have had no response from either department about this particular case.
This press release giving rise to this article was made on 4/4/18. DELWP have still not responded.