Chief of Staff to former Prime Minister Tony Abbott, Peta Credlin, is the latest to question Australia's mass immigration program, which flooded NSW (read Sydney) and VIC (read Melbourne) with a record 185,500 net overseas migrants (combined) in the year to June, further crush-loading our two biggest cities: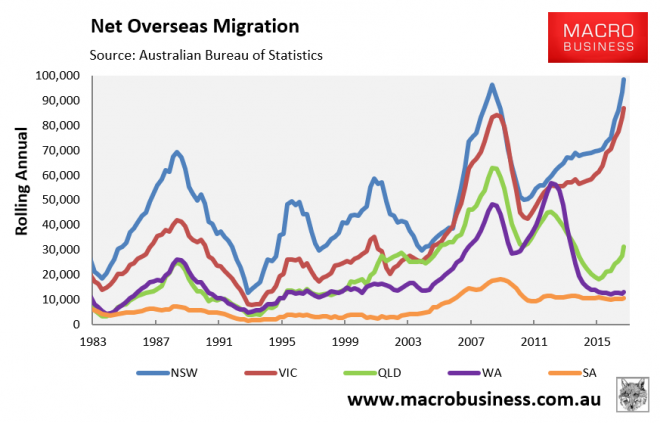 Last night, Ms Credlin delivered a detailed monologue on Sky News calling for immigration levels to be normalised back to their historical average, as well as demanding that our federal politicians give Australians a national debate and vote on Australia's future population size.
While the whole video is well worth watching, here's a few key quotes:
Overcrowded streets, busy roads, nowhere to park, over development, unaffordable housing, cramped schools, and in the words of many locals, far too many highrises. These were the concerns raised today [in Bennelong], and they are all code for population growth…

What I can say with absolute certainty is that we didn't come along any 'Big Australia' advocates in Bennelong today…

Having spent 16 years on campaign trails, like today, I wasn't surprised. Population is often raised because the majority of Australians live in the capital cities, and the congestion and development issues that come with population growth are a big concern…

Should we keep taking immigrants?' is not the question.

Instead it's 'how many immigrants should we take?

What's the optimum population size for Australia?

I know I speak for many people when I say this is the conversation they want to see their leaders having, the nation having, rather than being shouted down as racists or worse…

Isn't it about time we had a national conversation about how big we want our population in the future and put in place immigration levels to deliver it, rather than pretending this issue doesn't exist?..

We need to take a pause in Australia's immigration intake so that we can settle those here now into affordable housing and secure jobs, and let the infrastructure that is being built catch-up.
Well said. It's important to note at this time that net overseas migration (NOM) into Australia was 245,500 in the year to June 2017, which is more than triple the historical average of 73,000 NOM since Federation: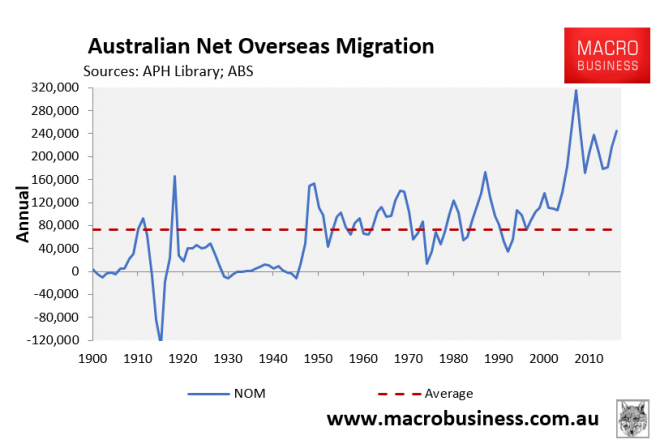 Clearly, immigration levels need to be drastically reduced, starting with Australia's permanent migrant program, which is running at 2.5 times turn-of-the century levels and is even higher than at the peak of the mining boom: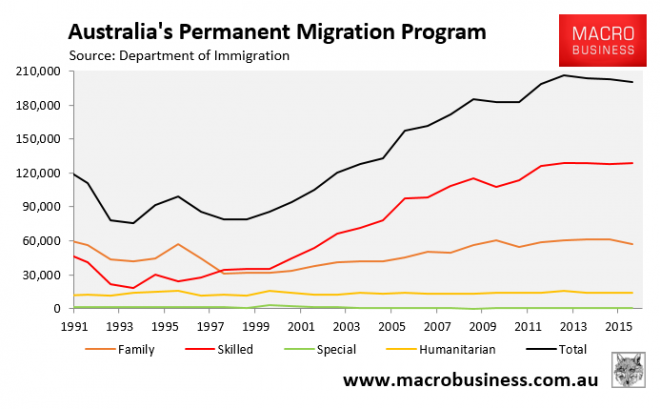 There is no economic or social rationale for such high immigration levels, especially given the overwhelming majority of migrants are flooding our two biggest and most crowded cities, and more than 90% are non-humanitarian (hence we are stripping developing nations of their 'skilled' human resources).