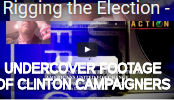 Article by Joseph Jankowski: An undercover video produced by James O'Keeffe's Project Veritas shows Hillary Clinton campaign operatives admitting to starting the #3366ff;">#3366ff;" href="http://www.cnn.com/2016/03/11/politics/donald-trump-chicago-protests/">riot that occurred back in March after the Trump campaign canceled a Chicago rally over security concerns.
Project Veritas was able to infiltrate the private political consulting company Democracy Partners and its contractor the Foval Group which have ties to the Democratic National Committee and the Hillary Clinton Campaign.
According to Foval Group founder Scott Foval, "The campaign (Hillary Clinton campaign) pays the DNC, DNC pays Democracy partners, Democracy Partners pays the Foval group, Foval Group goes and executes the shit on the ground."
What Scott Foval means by "shit on the ground" is the agitation that starts disruptions and places bad press on whichever Trump or Pence event they decided to hit.
Ed. This article by By: Joseph Jankowski | #3366ff;">#3366ff;" href="http://pfwnews.com">PlanetFreeWill.com is reproduced with a slight rearrangement of teaser from http://planetfreewill.com/2016/10/17/hillary-campaign-operatives-admit-starting-chicago-riot-shut-trump-rally/
An operative by the name of Aaron Minter, who goes by the alias Aaron Black, told project Project Veritas that the disruption in Chicago during Trump's rally in March was an operation of Democracy Partners.
"So the Chicago Protest when they shut all that, that was us. It was more him (Bob Creamer, founder of Democracy Partners) than me," said Aaron Minter, "but none of this was suppose to come back to us, because we want it coming from people, we don't want it to come from the party."
It is not totally clear why Minter, a full-time employee of Democracy Partners uses an alias, but one can assume that it is to shield his true identity from being tied into the violence he helps stir.
According to Project Veritas, Minter's job is to direct the "spontaneous" protests at Trump and Pence rallies.
"So if we do a protest and if its branded a DNC protest, right away the press is going to say partisan," Minter went on. "But if I'm in there coordinating with all the groups on the ground and sort of playing field general but they are the ones talking to the cameras, then its actually people. But if we send out press advisories with DNC on them and Clinton campaign doesn't have that same effect."
Zulema Rodriguez, who works in the office of the Foval Group, appears on the video to also claim credit for the violent protest that prevented the Chicago Trump rally from taking place.
"So B and I did the Chicago Trump Event where we shut it down like all the yeah.." Zulema said before being interrupted.
#3366ff;">#3366ff;" href="http://wqad.com/2016/03/13/two-officers-injured-four-arrested-during-the-trump-rally-protests-in-chicago/">Two police officers were hospitalized due to injuries they sustained during the riot and multiple arrests were made
Project Veritas' video makes it clear that the disruption coordinated by Democracy Partners and the Foval Group is indeed that, coordinated and planned out disruption.
"We have to be careful because what we don't need is for it to show up on CNN that the DNC paid 'X' people to..that's not going to happen," Scott Foval was caught saying on undercover video.
According to the founder of Democracy Partners Bob Creamer, his group has "a call with the campaign every day to go over the focuses that need to be undertaken."
Zulema Rodriguez also admitted to having daily calls with the Clinton Campaign.
This was not the first time (as#3366ff;">#3366ff;" href="http://www.breitbart.com/big-government/2016/10/17/exclusive-okeefe-video-sting-exposes-bird-dogging-democrats-effort-to-incite-violence-at-trump-rallies/"> Breitbart exposes).
Wikileaks reveals that at least one "bird-dogging" operation was approved directly by Robby Mook, Hillary Clinton's campaign manager. In an #3366ff;">#3366ff;" href="https://wikileaks.org/podesta-emails/emailid/3833" target="_blank" rel="noopener">email dated July 4, 2015, Mook approved a plan "to bird dog" Donald Trump, meaning specifically to infiltrate volunteers into his campaign events and ask him questions about immigration.

Trump supporters have frequently been the victims of real, as opposed to staged, violence.
While the mainstream media has tried to paint Trump supporters as violent and over the top, it turns out that it was actually the other side of the aisle who was being just that.
*************************
Joseph Jankowski is a contributor for #3366ff;">#3366ff;" href="http://planetfreewill.com/">Planet Free Will.com. His works have been published by recognizable alternative news sites like GlobalResearch.ca, ActivistPost.com, Mintpressnews.com and ZeroHedge.com. 
Fo