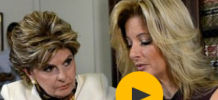 The Australian and American mass media have failed to give fair coverage to Donald Trump's responses to Mrs Clinton's smear campaign, so we are publishing them here. "I vaguely remember Ms. Zervos as one of the many contestants on The Apprentice over the years. To be clear, I never met her at a hotel or greeted her inappropriately a decade ago. That is not who I am as a person, and it is not how I've conducted my life. In fact, Ms. Zervos continued to contact me for help, emailing my office on April 14th of this year asking that I visit her restaurant in California." (Donald Trump)
Another accusation in a loaded contest
A former contestant on the Apprentice, Summer Zervos, on Friday accused Donald Trump of groping or aggressively kissing her on two separate occasions in 2007, when she met the businessman in private for what she thought were going to be discussions about job opportunities, but Trump has denied this ever happened. See below for his statement. Mainstream press credibility sinks as it fails to report Trump's responses to this campaign against him. Mrs Obama's participation in the character assassination does not dignify her. This press-in-the-gutter campaign is particularly irresponsible and dangerous as this mainstream is character-assassinating the only US candidate who may pull us back from the WW3 which Clinton appears to be rushing towards.
"I vaguely remember Ms. Zervos as one of the many contestants on The Apprentice over the years. To be clear, I never met her at a hotel or greeted her inappropriately a decade ago. That is not who I am as a person, and it is not how I've conducted my life. In fact, Ms. Zervos continued to contact me for help, emailing my office on April 14th of this year asking that I visit her restaurant in California.

"Beyond that, the media is now creating a theater of absurdity that threatens to tear our democratic process apart and poison the minds of the American public. When Gloria Allred is given the same weighting on national television as the President of the United States, and unfounded accusations are treated as fact, with reporters throwing due diligence and fact-finding to the side in a rush to file their stories first, it's evident that we truly are living in a broken system.

"Hillary Clinton can spend all of her time and money pushing complete lies against our campaign, but I refuse to fall victim to this vicious cycle of personal attacks. In the coming days I plan on addressing our nation in a more personal way to present my vision for how together we fight to bring back American jobs and defend our country against radical Islamic terrorism. I will take my message directly to the American people and bypass the unethical press that wants to see their candidate elected. Together, we will make America great again." - Donald J. Trump
Disconnect between Trump support on the ground and how the mainstream reports it
"[Ivanenka, Trump's daughter, has said that she is
"always is a bit stunned to attend an event and see the energy of supporters, only to read news reports the next day that have Trump sinking: "The disconnect is jarring."

She said the one thing that no one really understands is why her father ran in the first place. "I think we are at a place and moment in time where this country needs fresh solutions, and the problems ... become so systematic that they continue, decade after decade, without much progress to report," she said. That is why he ran, she said: "I do believe that. He looks at the issues this country is facing and sees past the noise and knows he can change that."

He is not beholden to any interest group, she added, "I wonder, will we ever be able to say that again about a candidate for president? It is such a unique circumstance we find ourselves in.""
Source: https://www.donaldjtrump.com/press-releases/icymi-ivanka-undaunted