[This is a translation from the French version, "Quelle est la théorie du complot la plus crédible que vous connaissez?"] The mass media is the mouthpiece of the corporate world.

Feminists may say that the prevailing attitude of men has always been that women's place is in the home. Well the truth is that until the industrial revolution, everyone's place was in the home. Home was where families worked – together. Men did not go off to work in offices and factories until there were factories and offices to go to.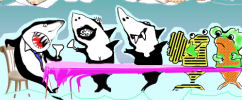 It was a hot night and twelve of us approached an impressive spread of endangered sea-creatures at a large table under cover outside. It was Don's birthday party. We had met him a few months ago at the local squash courts, and we only recognised four of the other guests, also squash players. I looked around me carefully.