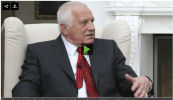 In the linked-to video inside Vaclav Klaus, the former President of the Czech Republic (2003-20130 says there is no 'human right' to migration and that civic rights are more important than human rights. Whilst individual migration may be judged on its own merit, mass migration as a right is an ideology. The European Union does not speak for Europe and changed from its former name of European Community (EC) because of an undemocratic desire to destroy nations. Mass migration destroys social cohesion and social capital. The United States may have been established through migration but the Europeans who led that migration removed the Indian inhabitants. If we want a comparison, consider that the current mass migrant diaspora being allowed into Europe may have a similar effect on the nations those migrants settle.
Reality Czech (ft. Vaclav Klaus, President of the Czech Republic (2003-2013).
Click here to watch interview Interview originally published on RT on 15 Oct, 2015 09:49 on Oksana Boyko's World's Apart.