The following article was previously published on the English language edition of the Syrian Arab News Agency (SANA) on 19 May. See also other replubished SANA articles: In solidarity with Syria, Australian boxing team conducts exercises for a set of matches in Fayha'a Sports City (14/5/16) and Australian boxing team conducts friendly matches with Syrian national team (14/15/16).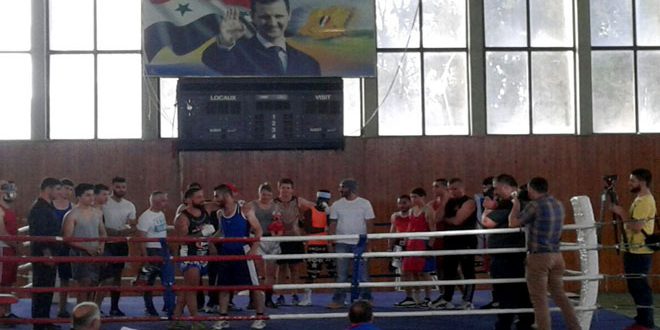 Lattakia, SANA – The Australian sport delegation, that is on a visit to Syria to express solidarity with its people against terrorism, concluded its visit to the coastal Lattakia province on Thursday.
During the three days they spent in Lattakia, the delegation members, who include sport and media figures and activists, held meetings with political and sport figures and paid visits to the mausoleum of Late President Hafez al-Assad and the ancient city of Ugarit.
Heading the Australian delegation, Rev. David Smith, who is a boxer and a cleric, highlighted the importance of the friendly matches and sport presentations the Australian boxers held with boxing teams in Lattakia.
The matches showed that the Syrian boxers; some of them are international and Asian champions, are well-experienced, said Smith.
Boxer Jacob Najjar, an Australia champion, pointed out that his second visit to Syria has revealed many positive developments in terms of the steadfastness of the Syrian people and the reality of events, as opposed to the picture promoted by the Western media.
For his part, Maher Dabbagh, Syria's Honorary Consul in Australia, said the delegation's visit was successful in that it has achieved its goal in terms of extending bridges of friendship and communication between the Syrian and Australian people and conveying the true picture of what is happening in the country and the suffering of its people.
M. al-Frieh/H. Said