Inside see copy of the letter from a lawyer which was today delivered to East West Connect, Linking Melbourne authority and Lend Lease, on behalf of Protectors of Public Lands Victoria Inc and Royal Park Protection Group Inc.. advising that work on the Link is no longer justified. This article extends an invitation to celebrate the end of East West Link and documents the cessation of work on this loathed piece of infrastructure. So many people worked so hard to stop this abomination, spent so much time and their own money. Many thought they could never win. Even the judicial system seemed aligned with the government against the people. Julianne Bell and others who followed her example have truly earned this extraordinary outcome, which certainly contributed to the undoing of the Napthine Government.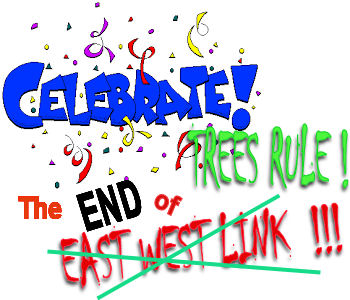 Work Started in Royal Park on East West Link by East West Connect Consortium Prior to Election
The EWC consortium had already started marking out trees and roadways in Royal Park. The East West Link campaign group gathered at 6 am this morning 2nd of December at the State Netball and Hockey Centre in Royal Park to monitor whether the team of EWC surveyors would arrive . Julianne Bell was ready for them with a letter from a lawyer (see below) but they did not show. This letter has been sent to East West Connect, Linking Melbourne authority and Lend Lease.
Legal letter
"To Whom It May Concern:

I act for the Protectors of Public Lands Victoria Inc and Royal Park Protection Group Inc.

You would be aware that the newly elected Victorian State Government, led by Daniel Andrews, has committed itself not to build the East West Link.

You would be aware also that the outgoing Minister for Planning's decision to approve the first stage of the East West Link project is the subject of judicial review proceedings in the Supreme Court.

In the present circumstances, it is my clients' view that there is no justification for your carrying out any survey work in Royal Park.

On behalf of my clients, I request that you cease and desist immediately from carrying out any further work in Royal

Park.

My clients reserve all their rights.

Yours faithfully

Dominica Tannock"
Celebration of Finally Saving Royal Park and the Zoo from the East West Link Toll Road.
A number of who were involved in the long standing Save the Zoo campaign including Protectors of Public Lands Victoria Inc. (PPL VIC ); Royal Park Protection Group Inc ( RPPG); and Moreland Community Against the East West Tunnel (MCAT) decided that they should celebrate saving Royal Park and the Melbourne Zoo as the Labor Government is committed to abandoning the EW Link Toll Road.
In August last they nearly had a celebration over the deletion of the Elliott Avenue interchange from the EW Link plans but cancelled it due to information they received about secret Zoo plans for more carparks in Royal Park. So here is the plan for the event. Please invite any of the individuals you know who assisted with the protests or "information sessions" outside the Zoo Twilight concert nights over the last year or so.
When : Saturday 6 December 2014 gather at 11:00 am outside the main entrance of the Zoo. All are most welcome
Dress: Children dress up in Zoo animal costume for there will be photo sessions at the Main Entrance and then inside at the 'Saving Extinction' sign which is in the main drive just down inside the Zoo from the entrance.(Bring your cameras!) We want to celebrate that we saved the Zoo itself from extinction - from noise, vibration, blasting and light glare first from the Elliott Avenue turn off 40 metres from the endangered species and then cut and cover roadway 150 metres from the Zoo.
Admission: The cost per adult is $30.80c per adult. Children free. Also Friends of the Zoo is free - please bring membership card. We will try to obtain free entry or concessions but need to know how many will attend. Please RSVP with the expected number in your group.
Lunch: After the photos we will proceed to the Lakeside Cafe for lunch which we will have to buy. You could bring your own to eat in the gardens if not wishing to have cafe food. . We will then visit Num Oi the pregnant elephant. She could have been affected had the EW Link proceeded.
Transport: Carparking at Zoo near front entrance ($2 coin for 5 hours). Parkville Station on Upfield line near north entrance to Zoo (walk round to front entrance to join for the photo ops. Tram #19 to Stop #16 in Royal Parade, get off at Walker Street and walk 250 metres west to Zoo. Melways Map Reference for Tram Stop #16: (Page 29 H12). Cycle parking available.
Enquiries & RSVP: Michael Petit MCAT Mobile: 0417 354 169. Julianne Bell PPL VIC Mobile: 0408022408