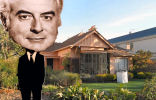 "Edward Gough Whitlam
Thank you for bringing my brother home from Vietnam.
Thank you for my university education.
Thank you for my health care.
Thank you for fostering the arts and giving me pride in my country.
You are honoured in China for being the father of normalising relations with that nation.
Born in this house, how sad and ironic that your birthplace is being torn down by an international investor.
Rest in peace."
(Anonymous tribute placed on wall of Whitlam's birthplace, with flowers).