Article of 8/6/2014
republished from the
Voice of Russia
. Links to some of the hysterical responses by Western leaders and the mainstream Media (msm) to the decision by Crimeans to join Russia, in preference to remaining within Ukraine, now ruled by Nazis and extreme right wingers, are included at the end of this article. - Ed
Vladimir Putin did nothing wrong by reuniting Crimea with Russia, said Janusz Korwin-Mikke, a European Parliament MP and leader of the Polish political party called the Congress of the New Right. During a panel discussion on local TV he asked others not to talk ill of Putin because "he did nothing to deserve such treatment."

"If, for example, 95 percent of Lvov's citizens were Poles who voted on a referendum to join Poland, no Polish leader would've been able to refuse them," he pointed out.
Meanwhile, referring to the tragic events which took place in February at the Independence square in Kiev, he said that "the terrorists who killed 20 police officers and 60 protesters were trained in Poland."
Late May the Eurosceptic Korwin-Mikke's political party achieved success for the first time in its history by clearing the 5 percent voting threshold during the Euro parliament elections. The New Right representatives received support of 7,15 percent of Polish voters. Mr. Korwin-Mikke declared that his main goal is to destroy the European institutions from within.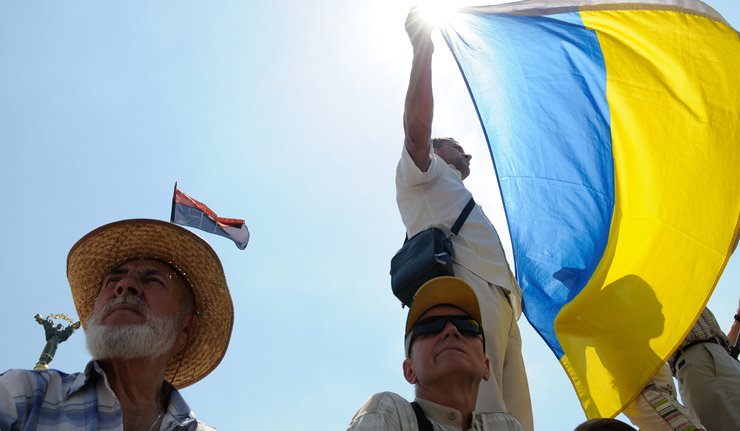 © Photo: RIA Novosti/Alexander Maksimenko
Speaking about the Russian-Ukrainian relations regarding the ongoing crisis in Ukraine, Mr. Korwin-Mikke said that Petr Poroshenko should begin negotiating with Russia. After the inauguration on June 7 Poroshenko should draw a border – whether it will encompass Donetsk or not is irrelevant as long as it is a clearly defined border – and say: "This is my country!" And afterwards he should join Moscow at the bargaining table, Mr. Korwin-Mikke said.
Appendix 1: Msm reporting about Crimea
Don't Forget Crimea (NYT, 8/6/2014 - behind paywall), Crimea is ours for ever, says Ukraine's new president (The Times, 8/6/2014), Ukraine president vows not to give up Crimea (Guardian, 7/6/2014), Ukraine's New President Pledges to Retake Crimea (Vice News, 8/6/2014), The Invasion of Crimea Is Hurting Russia's Other Exclave (Forbes, 6/6/2014)
Ukraine President Poroshenko's Inauguration Speech: No Compromise with Donesk and Lugansk (Global Research, 8/6/2014)
Appendix 2: Some non-msm reporting about Crimea
Crimea rules out rejoining Ukraine's territory, Crimea Leaders Rule Out Ever Rejoining Ukraine (FarsNews, 8/6/2014)