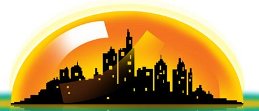 In place of urban sprawl, urban consolidation is supposed to reduce our environmental footprint, by compacting housing for less car usage, more "affordable housing", and reducing greenhouse gas emissions. On the contrary, it tends to have the opposite effect.
Trees, which provide shade and act as natural air conditioners, play an important role in helping to create cities that are more resilient to extreme temperatures as the climate warms. But, trees are being cleared for the cluttering of cookie-cutter, generic concrete multi-unit blocks, instead of the garden-surrounded an identifiable single houses of a few years ago.
The "heat island effect" results from hard surfaces absorbing and then radiating heat, thus capturing hot city temperatures.    Experts say this phenomenon is expected to become more prevalent with increasing urbanisation and will exacerbate climate change impacts.
ANU research shows that some of Canberra's inner-city suburbs are the most heat-vulnerable in the territory, despite the benefits of their leafy tree-lined streets. It showed Canberra's mostly-treeless outer suburbs were likely to be up to seven degrees hotter in summer than those with more established trees - such as those inner suburbs.
In that study of 21 Canberra suburbs, researchers found temperatures could vary by as much as 7.5 degrees between treeless postcodes and those with more trees.
Canberra Times: Canberra's heat vulnerable suburbs revealed
ANU Researcher Dr Liz Hanna said: "If we have planning designs and housing designs where there's insufficient front and backyard to plant a tree, and if street trees are not shade trees, we think that's foolish". We agree it's "foolish", but with high rates of population growth and increasing urban density, backyards and traditional housing with gardens and trees, are disappearing.
Power outages
Up to 100,000 Victorian premises were threatened to lose power during the January heatwave as demand crippled the state's electricity grid.
Melbourne is following the lead of Asian cities such as Hong Kong for extreme housing density, with more people living in apartments. The housing affordability squeeze, and the marketing of thousands of tiny apartments to investors, is threatening to undermine Melbourne's liveability.
Mr Tony Arnel, Victorian Building Commissioner, suggests that buildings above three storeys begin to use more energy due to the need for lighting in common areas, lifts, security and the lifestyle of residents. The Victorian Building Commission has found there is "no conclusive evidence that vertical living was more sustainable than conventional homes."
A NSW Energy Australia study found that high-rise apartments use 30 per cent more power than a typical detached house. The use of air-conditioners is a mandatory part of the lifestyle.
Climate change is predicted to increase the number and intensity of heatwaves experienced in Melbourne. Along with the densification of our city, and a population that's projected to double by 2060, it means the converging effects of more power being soaked up by a growing number of apartment dwellers, more power outages, higher utility and health costs - and the compounding factor of higher greenhouse gas emissions.
Loss of Vegetation to make way to mobilize more people
To build the East West Link tunnel under Royal Park, the Melbourne City Council estimates that some 5,000 trees, many very old, would be lost. The remnant bushland in West Royal Park, the only area of this kind of vegetation left in Melbourne, would be dug up. By actively cooling the urban landscape, vegetation helps reduce energy use and carbon dioxide emissions, and ultimately lessens the risk of residents suffering heat stress, heatstroke or even death…
Wetlands from storm water, which supplies water for Melbourne's parks and street trees plus the Royal Park Golf course,  will be completely destroyed.
The East West Link/tunnel will increase temperatures in Melbourne, and the nibbling away of Green Wedges for urbanisation will compound the problems of power demands, infrastructure break-downs, anti-social behaviours, and deaths/illness from heat stress.
Privatisation woes
The SEC provided cheap and reliable power to Victoria for 70 years. Selling off Victoria's power supplies and raised some revenue in the short term but in the long term it has resulted in a huge financial burden on the entire population through rapidly increasing prices. Now, unplanned overloads and outages are placing extra stress on the power grid, one that's fine-tuned for profits rather than service.
Privatising state owned assets is a strategy is to reduce employees, and  increase remuneration to share holders and owners. 
Population growth driven by heavy economic reliance on property development
The population of major Australian cities is expected to double in the next four to five decades, thanks to high rates of net overseas immigration.
The government powers-that-be in Canberra view the economic growth meta-statistics and see our economy is "growing", without considering democracy, the costs of growth, and the human-environmental fallouts. They simply open up the draw-bridge of our borders and allow the new-comers to flow in from oversea! Planned increases in urban density are likely to result in the removal of a significant number of trees from urban areas.
Canberra's population could increase to 904,000 by 2061 according to new projections released by the Australian Bureau of Statistics. This growth means significant challenges for governments and ACT infrastructure. There's no diplomatic, administrative or public service increases to justify this growth, except general population overflow.
Melbourne's population is swelling by 2 per cent a year, or at a doubling rate of 35 years.   The power infrastructure must not only be routinely maintained and upgraded or replaced every 50 years, but must keep expanding at 2% each year - and also cope with outages and heat-waves.   
We need a u-turn in our economy from a growth-based, road-dependent, high resource and energy-consuming one that's trapping us in islands of heat - to an alternative model that's bio-centric and human-friendly,  and relevant to an age of extreme weather patterns, and the hostilities of climate change.