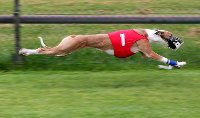 Bled dry - the fate of greyhound racing's 'wastage'
7.30 recently exposed widespread doping in the greyhound racing industry, and since then they've had a huge response.
Greyhound racing is an industry that a lot of people enjoy, but behind it lies a terrible toll on the dogs. There's a massive toll of injured animals. Many exhibit crate and muzzle sores, and stress from high speed chases. Australia's greyhound industry is the third biggest in the world, and each year Australians wager about $3 billion on the sport.