As one who was involved early on in reporting on the 2008 incident that sparked off this book, and then in some proof-reading, I can personally say that I think this book is a triumph in embodying the goodness of children and their love of nature. This is a book that I will buy for children I know.
Book review
Menkit Prince, 2013, Chloe and Joey meet a very wise Kiwi. Illustrated by Kathleen McLaren.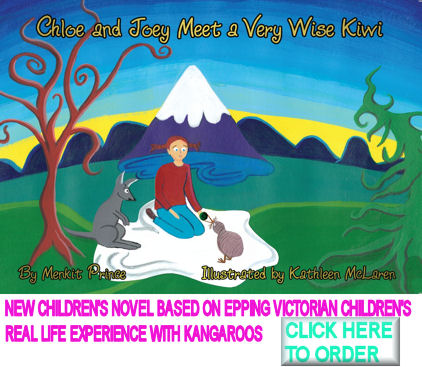 This delightful novel by Menkit Prince features a real little Australian girl called Chloe. The story, which is charming, logical and satisfying, as well as exotic and adventurous, begins with the actual experiences of a primary school class in Epping, Victoria.[1] The teacher in charge of the class observed her pupils' distress at seeing many injured kangaroos displaced by new suburbs. She helped them write to the then Minister for the Environment, Gavin Jennings (depicted here with his heart missing).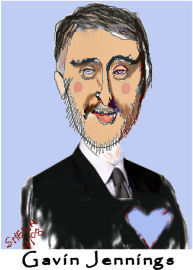 The outcome was even more distressing. The children's letters got scant attention. The kangaroos continued to be deprived of their habitat, and the teacher seemed to receive a firm message not to encourage this kind of political engagement with truth.
Of course we think this is just the kind of engagement with nature and population that children should engage in with courage but lots of support. The absence of support from the official channels struck us as a tragic sign of the times.
Menkit Prince's book empowers Chloe, a character inspired by one of the children in the class, to act to save kangaroos by elevating their status in the hearts and minds of Australians, taking advice from a New Zealand kiwi bird.
It is a lovely and important story and a superior children's novel.
In fact I know it very well because I was originally contacted to do the illustrations, but the author finished up choosing another artist who did an excellent job. I worked with Menkit, however, by helping her to proof-read. I do quite a lot of proof-reading but can truthfully say that it was some of the most pleasurable proof-reading I have ever done.
I love this book!
The book took a long time to get to publication, which is the nature of publishing.
I really want to recommend it to parents and their children. I think it should be destined to be a classic and also think that it will help the plight of kangaroos and the plight of children, from whom the experience of magical nature is being stripped.
Sheila Newman
Editor and Evolutionary Sociologist
Policy Advisor for the AWPC
[1] Click here for the original 2008 article, "Children in Epping tread where adults and politicians fear to go"