This Friday, 7 December, the Federal Government plans to give away environmental assessment authority to the states. Candobetter readers should take any opportunity they can to avoid this devolution of our already semi-toothless legislation. Here is an opportunity to add your signature to a petition. There is also a Get-up campaign. Readers are invited to let us know of any other actions they are taking.Links to petitions etc inside.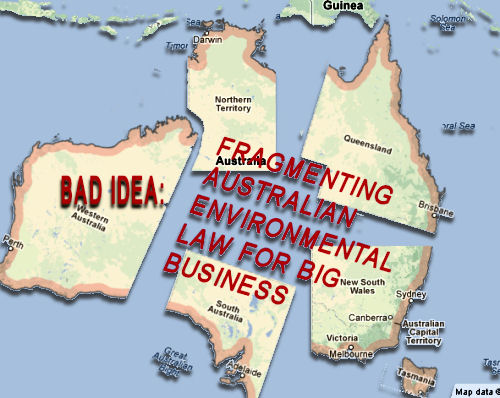 What is the EPBC Act and why is it such a big deal?
Virtually the only functioning piece of environmental legislation in Australia is the Environment Protection and Biodiversity Conservation Act (1999), or the EPBC Act. It is the only law that individual citizens can bring a complaint under. The state environmental laws require you to find an officer in a government department or some other rare organisation with 'standing' who will bring a complaint for you. If you have tried to do this you will realise how this is almost impossible. Wildlife organisations and carers see grotesque crimes daily and cannot interest state bodies.
Under the federal EPBC legislation, the Federal Environment Minister, Tony Burke, has responsibility for assessing and approving (or rejecting) major development that will impact our nationally important places and wildlife, such as our World Heritage areas, threatened species and nuclear actions like uranium mines or nuclear waste dumps.
Apparently, due to industry lobbying (notably from the Business Council of Australia) and without consulting the Australian public, the government is gutting these laws and handing over most, if not all, of these federal responsibilities over to the States.
This means that Premiers like Campbell Newman, Collin Barnet, Ted Bailieu, Barry O'Farrell, etc., will be left solely in charge of protecting our Environment and World Heritage areas like the Great Barrier Reef. Since power over land and water resides in the states and they make much of their money out of buying, selling and regulating these for profit, they have a vested interest in developing land. The states are notorious for ignoring environmental law in favour of big money and development.
December 7, 2012 is D-Day for Environment
On December 7th, the Prime Minister and Tony Burke intend to hand over their environment responsibilities to the states through the Council of Australian Governments (COAG). Recent hard-won environmental protection in Australia has only been possible when the Federal Government stepped in to overrule bad state government decisions. See, most recently, Tony Burke shows courage in giving NSW and QLD koalas threatened status As the Australian Greens note, "If the States were in charge of the environment, they would have damned the Franklin River, put oil rigs in the Great Barrier Reef and let Traveston Dam go ahead."
Make no mistake; fracking, massive open-cut coal mining, huge housing developments, desecration of the Kimberlies, cattle on the highlands, fragmenting, farming and selling off of national and regional parks - will all be on state agendas.
Environment groups and scientific bodies like the Wentworth Group all agree – this change, being rushed through by COAG at the behest of big business - is the worst thing to happen for environmental protection in Australia for thirty years.
Petition to sign
The Australian Greens have put out a petition to sign http://greensmps.org.au/content/petition/minister-burke-dont-hand-your-powers-states and share with your networks.
Get-up Campaign
http://www.getup.org.au/keep-federal-govt-enviro-powers Also asking for donations at Get-up and for a lot of information about you.
Disclaimer from Editor at Candobetter.net: Note, the petition is from the Australian Greens, some of whom have shamefully ignored population pressure from high immigration and have caused debate to focus on asylum seekers. They are now - oh so belatedly - calling on people to use them to support environmental laws. Despite these failings, the Australian public need to use this opportunity to try and defend their environmental legislation (which still needs to be much much stronger) as well as to use any other opportunities that may arise. So please consider signing. And similar for Get-up, which also ignores population and insists on getting a lot of information out of you which is no doubt useful to on-sell.
Source: Press release from the Australian Greens and the Humane Society International, and independent research. Contact was also attempted with the federal office of Environment Minister Tony Burke by phone and by email, but no-one was available to comment on the day that this article was written. If we receive a response to our email we will take it into consideration.