Despite the fact there are no publicly available plans for this project, Stage One of construction of the East West Link has already commenced with "geological investigation" (i.e. drilling for soil and rock samples and testing for underground water) along the proposed alignment of the above/under/on ground road way. As spelt out in the Eddington Review of 2008 the freeway/tollway is likely to be open cut through Royal Park. It seems that there has been a total failure to responsibly and democratically consult the Victorian Public on their wishes in this matter as it affects public lands. The snap protest will be held near the reserve with the drilling rig at the corner of Neill and Canning Streets Carlton outside the Dan O'Connell Hotel starting at 12:30 pm. (Melways Map Reference 2BK4).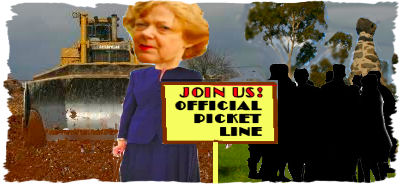 Protectors of Public Lands and Carlton Residents Association
Protectors of Public Lands Victoria and Carlton Residents Association have called a snap protest tomorrow at 12:30 pm at the drilling site on the Reserve outside the Dan O'Connell Hotel in Carlton as part of the ongoing campaign of opposition to the East-West Link and support for the Doncaster Rail Link.