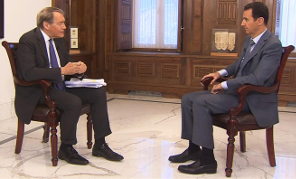 President Bashar Al-Assad being
interviewed
by Charlie Rose
of
60 Minutes
on 10 Sep 2013. For a corrupt, brutal dictator, as
he has been depicted by the Western media, he has shown him-
self remarkably willing to face long and probing interviews,
sometimes even with hostile interviewers.
Most unfortunately for the anti-war movement, even some who oppose Australian military intervention in Syria, including Greens member of Parliament Adam Bandt, accept the claim that President Bashar Al-Assad is a brutal dictator guilty of murdering many tens of thousands of his own people. 1 
In fact, Bashar Al-Assad was re-elected President on 4 June 2014 by an overwhelming majority of Syrians. See Syria's press conference the United Nations doesn't want you to see with embedded 52:45 minute YouTube video. 2  This report is of a press conference at the United Nations in New York on 19 June 2014. At that press conference five international observers testified that the elections were conducted fairly. Not one of the journalists present took the opportunity to challenge that testimony. Those, who had reported before and since that Bashar al-Assad was a corrupt and hated dictator, was torturing and murdering his own people, was dropping 'barrel bombs' on civilians, was poisoning Syrians with chemical weapons, etc., etc., etc., seem to have lost their voices on that day, or were absent.