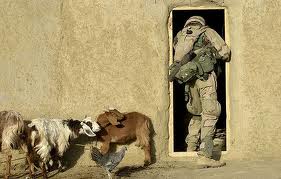 News is still filtering out today about a US Army Staff Sergeant who allegedly yesterday (Sunday) left his barracks in southern Afghanistan before dawn and walked to the rural villages of Balandi and Alokzai in Afghan's southern Panjwai district and went on a shooting rampage, murdering sixteen unarmed civilians in their homes. Reportedly mostly women and children are among the dead. The number of wounded is still not known.
The male soldier was apparently by himself as he walked from house to house opening fire Sunday on the Afghan villagers as they slept. Apparently some bodies have also been burned.
"No Taliban were here. No gunbattle was going on," cried out one woman, who said four people were killed in the village of Alokzai, all members of her family. "We don't know why this foreign soldier came and killed our innocent family members. Either he was drunk or he enjoyed killing civilians."
The other 12 dead were from Balandi village, said Samad Khan, a farmer who lost all 11 members of his family, including women and children. Khan was away from the village when the attack occurred and returned to find his family members shot and burned. One of his neighbors was also killed, he said.
"This is an anti-human and anti-Islamic act," Khan said. "Nobody is allowed in any religion in the world to kill children and women."