Responding to a press release about global problems of illegal logging, Australian forest activist, Jill Redwood says, "This illegal logging is not just limited to developing countries or where there are corrupt regimes - it is happening right now in Australia and has been for the past 50 years." The press release came from a volunteering organisation, Projects Abroad, better known for foreign aid projects which young people pay to participate in. It seems to be advertising for volunteers to join a project in Taricaya in South America where it claims to own 476 hectares of Amazon rainforest, where it is running, among other activities, a 'pilot farm', which doesn't sound too good. Projects abroad press release also seems to indicate faith in forest preservation policies marketed by the World Bank and Interpol. Environmentalists tend to see the World Bank as a driver of deforestation. And then there is the question of 'volunteering'...

What comes across the candobetter.net editorial desk
It is interesting to see what comes across the candobetter editorial desk - which is a very informal virtual piece of furniture with multiple occupants. Like any newspaper, we get press releases from all over the world. They are targeted according to the way that candobetter is perceived by the agencies that redistribute press releases. This one, about Projects Abroad, took a while to unravel. Projects Abroad does not sound like your typical conservation activist organisation. It looks more like a business organisation out to make money from peoples' interests and concerns about poverty and their desire for adventure. It wasn't conveying any real news, since it was only restating information that has already been carried in the mass media. This information, however, relates to forest conservation, which is of interest to candobetter.net. On the other hand, candobetter.net tends to cast a jaundiced eye on foreign aid organisations, because of their reputation of being Fagins. (Fagin was the Dickens character who trained destitute little boys to thieve for him.) So we also had a look at Projects Abroad. Hence the rather long title of this article.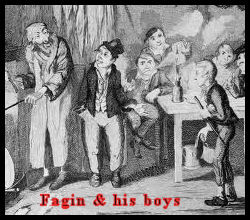 The facts below came in the press release from Projects Abroad. They originated at 'Chainsaw' [.pdf file], a joint World Bank and Interpol project of interest which probably won't get much support from the World Bank, we dare say:
What is happening to the world's forests
Between 20% and 50% of all timber sold worldwide has been illegally sourced
For many years the volume of timber taken from rainforests by far out-strips the rate of planting
When this is allied to illegal logging, worldwide deforestation will reach crisis point – beyond which restoration will be extremely difficult – at some time this year.
The average rotation of planting timber is only between 30 and 40 years which is not long enough for the trees to produce the volume of wood necessary to satisfy worldwide requirements. This inevitably leads to continuing illegal ingress into the primary forest.
'Chainsaw' [.pdf file] – a joint project between the World Bank and Interpol – reported last year that an area of the world's rainforest the size of Austria was illegally felled every twelve months. (See below, "The Chainsaw project," for an informative extract commenting on possibilities and difficulties policing illegal logging and trafficking of logs.)
The only way forward [according to the World Bank] is through much stiffer timber security and for affluent western countries to pay emerging nations to preserve their forests - probably under a scheme called Reducing Emissions from Deforestation and forest Degradation (REDD).
[So what do we do about a country like Australia, when, although it is not deemed 'an emerging nation', it is illegally felling or unwisely felling its remaining forests, both public and private?]
Deforestation accounts for very nearly a quarter of all the greenhouse gasses created by human activity each year.
Jill Redwood: "Shocking but not at all surprising!"
Responding to the statements above, Australian forest activist, Jill Redwood of Environment East Gippsland, wrote,

"My response would be to say that this illegal logging is not just limited to developing countries or where there are corrupt regimes - it is happening right now in Australia and has been for the past 50 years. Our forest agencies and the government protection they receive is simply more sophisticated, with public relations firms, spin doctors and compliant regulatory schemes that overlook and excuse the illegal nature of forest destruction in Australia. Court cases from Tasmania and Gippsland, launched by environment groups and individuals have shown that logging is being carried out against the laws we have to protect endangered wildlife. Audits have shown for years that rainforest is logged illegally, environmental codes are breached on a daily basis and nothing is done besides government media stating how logging management is improving every year.

We are converting old growth primary forests into industrial pulpwood tree crops over public land at great public expense and losing our rare wildlife as well. Not much difference to Indonesia or Borneo really. Our governments are just better at hiding that fact."
Not only is Australia devastating its own forests, but you can also import illegally taken logs through the holes in our importing regulations. Professor William Laurance is trying to alert Australians to the risk of buying wood furniture made in China because of the high risk that it is made from wood harvested illegally in Africa, South America, Asia or Papua New Guinea. Source: "Call for tighter laws to halt illegal timber imports," Canberra Times, February 6, 2012
Who are Projects Abroad?
The press release sent to candobetter.net quoting Dr Peter Slowe quoting the Chainsaw Report also informs us that "Volunteers visiting Project Abroad's Taricaya project are given the opportunity to take part in important research work and biodiversity studies into all types of flora and fauna. Taricaya has South America's highest canopy walkway, a freshwater turtle project, and a pilot farm." What sort of a farm, one wonders, in the middle of the rainforest? Don't the indigenous people already know how to preserve the rainforest? Reports from any Projects Abroad volunteers on this farm and the situation surrounding it would be interesting, but we have none to hand.
Projects Abroad also tells us that "Projects Abroad has sent more than 41,000 volunteers to 27 different countries since its inception in 1992. Last year, they sent around 8,000 volunteers on projects and are predicting an increase of at least 10% this year."
Volunteering
Whilst appreciating the news-feed on this vital issue, we wonder why this organisation relies so much on volunteers and what it spends its funds on. It is hard to trust an organisation which markets itself through its founder's early connections with the UK Blair Government.
For these reasons we tried to check out Projects Abroad. We discovered that Projects Abroad fits the 'foreign aid' category that is so abused by entrepreneurs, governments, outsourcers and exporters. We found a Projects Abroad website which had a page responding to accusations that Projects Abroad was a volunteering scam.
We also found this very interesting page, which contained the following reports from past Projects Abroad volunteers.
Projects Abroad Complaints and Reviews - Abusing poverty to gain income
Comment:
After visiting Arusha in Tanzania to visit local projects, such as schools and orphanages, I visited one specific orphanage where it became clear to me that Projects Abroad, an UK based organization (say Company), sends volunteers there to help at the home and school and stay with local host families. Great I would think first, but when I started talking to the 'volunteers' who came from the USA and the UK it became clear they pay 1500 USD per month to work in an orphanage and NONE of this money goes to the project. A host family with food will not cost more then 250 USD and sure some money needs to go the the organizing party, but so much money and NOTHING goes to those in need; orphans, children who need education and have no food...I am shocked but also appalled that this 'organization' is nothing more then making money over the backs of poor people. Shame on you...the name of Herman was mentioned several times as it seems this character works for these greedy people in Arusha. BE AWARE for these companies, look around on the web, there are plenty of smaller organizations that charge much less and that support the projects they work with!
Comment:
I also agree Projects Abroad is not a well run organization, that likely is not spending money where it is most needed. I also don't agree with having so many different types of projects at a location that they are unable to focus on the needs of any. It's possible they do better work in certain projects, such as care (working in orphanages) but my experience with a medical project was poor and I wouldn't recommend this organization for medical work.
I am a physical therapist from the US and I went to Bolivia to work in a pediatric burn unit through Projects Abroad. The staff was friendly, but otherwise very unorganized and gave me no guidance whatsoever as to prior volunteer experiences in the burn unit, so I was thrown into my job with very minimal information about the needs at the burn unit. I would have been ok with this if it was a new 'project', except, after returning to the office frequently with questions about any information from prior volunteers, I was finally handed a binder that had some brief essays prior volunteers had written about their work in the burn unit. Only a handful of physios had been there before and I found some notes their supervisor had written, but no essays. I only found essays from the med students and nurses who had been there before. Maybe they hadn't written an essay? It's possibly, but after my experience I have to wonder if they accidently 'lost' them. Regardless of my lack of information, and no prior experience myself working in a burn unit, I threw myself into my work and made a place for myself at the burn unit. I worked very hard at talking to various supervising people at the hospital to learn the politics there- who to know to really get things done...etc... My Spanish significantly improved, and I learned a lot about what they need there. Unfortunately, four months was a good amount of time to get enough information to start developing a real 'project' at the burn unit. But with my continued visits to the office to try to discuss my need to communicate with a future volunteer so we can continue a project I was told I was not allowed to get their email (I was told a nurse was coming the month after I was leaving). I did write a very long essay before I left describing what I learned, and pleaded with them to send me the email of any new volunteers that come to the burn unit. It's been 7 months since I left, and have not heard a single word from the staff.
There is also no transparency as to where the money goes. I don't want to blame the office staff though, they all seem to have no clue either- the money management all happens in the UK they say. I was told if could get maybe 25-50 US dollars worth of materials for the burn unit per month within their budget, but wasn't told this until my second month in, and only because I was incessant in my questioning of the staff about where the money goes. I was told if we wanted to spend any more money than that, we had to fill out a form, and request it from the UK and that could take months (I would be gone by that time and had no faith in trusting the staff to spend that money appropriately and no ability to communicate with a future volunteer) Again I really had to poke around just to get that bit of information. I believe only 150US went to my host family, from what I learned from the family, so I am in agreement that very little goes to the actual 'project', considering I spent over 1000US per month to be there.
But my biggest frustration with projects abroad is that there is no way they can sustain a 'project' if they don't allow volunteers to communicate with one another. I did enjoy the work I did in Bolivia, lived with a fabulous host family, and intend to return to Bolivia this year to maintain my contacts with the staff in the burn unit, and PT students that I worked with. BUT there is not way I would give one more penny to Projects Abroad- I will be able to get there on my own and don't need any 'help' from a volunteer organization that gave me much more frustration than assistance.
Comment:
I agree! I just spent $2, 400 to volunteer in an orphanage in Jamaica. When I got there we were told by the orphange staff members that there was no need for more volunteers. Of course Projects Abroad said there was still a need because I was realized this is a company out for a profit. Jamaica can not handle many volunteers, yet they are still priding themselves on how many volunteers arrive as opposed to the actual impact they have at the volunteer sites. I feel that I was taken advantage of by this program!
Comment:
I don't understand these complains. Projects-abroad is a pure profit company: they sell poverty and solidarity. Their customers paid for that: they want to be volunteer, to live an adventure but "all-included" and something well organized...
Their job is to make money, don't complain that they don't give enough to hospital or the hosting families, they are not a charity organization ...
If you really want to be volunteer, join a non profit volunteer organization. Maybe their web site will be not so nice, but at least they know what a volunteer project is... and it will cost you more or less nothing...
check for ex: www.servicevolontaire.org, www.vap.uk, www.afs.org, www.sjvietnam.org, www.javva.org, ...
Comment:
Thanks for the tip, I wish I had known everything you just said before I went though. That's why I'm upset, the website makes it look like it IS a charity organization (call me stupid but I thought it was a non profit before I went), and takes advantage of people like me (there are many others I met while I was there who thought the same) who are naive. We felt cheated and used- but yes, it was because we were uninformed going into it. Also the 'well organized' part is totally false, at least for the program I went on. For a for-profit company, and the money we pay, they could do a much better job at organizing the projects themselves. They have so many projects going, they don't know which way is up or down with most of them. Half of my frustration in Bolivia was that I was trying to help Projects Abroad Bolivia itself (not just the burn unit) become more organized and get some basic communication going between subsequent volunteers, and wasn't getting support or interest by the local staff in my efforts.
I went on this website, not to just whine about the program- I understand the mistake I made when choosing a program, and I want to help others make better decisions. Thanks also for posting the links.
FYI I did go back to Bolivia for a month on my own, did the same work I had done before, and had a much more satisfying experience! It's just heartbreaking to see that they really need help there, and I know Projects Abroad is not going to start anything sustainable there- it would be up to me or someone else to work on that...
Comment:
Absolutely have to agree with above comments. Went to Nepal last year as a fully qualified physician with some physician colleagues - at the time of application the website suggested we would be working with the poor and would be provided with translators (so we could be somewhat effective). In the end our complaints are too numerous to count but we met with many of the heads of Projects Abroad in Nepal who were all very wealthy and connected. We were never able to provide any useful medical treatment because no one was able to translate for us except for the local doctors who frankly couldn't understand why we were there. (Side note: volunteer surgeons have gone to Nepal to help train local surgeons in modern techniques but these skills get abused as surgeons find any excuse to take gallbladders out of patients who are simply constipated.)
Our greatest beef with this company was that we thought the hefty sums we paid went towards a decent needs-assessment. We were given the impression that they sent trained volunteers to areas that have expressed a need for help. And we were told we would have translation on the field with the possibility of outreach programs, none of which actually happened.
Total fraud. We gave the organizers very thorough feedback and they assured us they were going to pull the PRO portion of the Nepal wing of Projects Abroad. Just checked today and it's definitely not the case.
[End of comments]
The Chainsaw project
1.16 Problems regarding the legality of illegal timber trafficking In order for any law enforcement officer to undertake investigations they must first be satisfied a crime has occurred. When considering crimes of violence, and other crimes against the person, or drug or weapon trafficking, the answer as to whether a crime has occurred would appear to be obvious. The same cannot be said when considering international trade in primary products; fish, animals, and plants, including illegal timber.
The legality of unlawfully logged timber at any given time in its journey from the forests to the end user will be largely determined by time and space. The question; what is the national law that relates to the product, can often depend on where it currently geographically is, and at what time it is there?
The reasons for this and the difficulty faced by law enforcement agencies in investigating this crime type are:
- Timber is not an illegal product per se. Its possession, trade, or transportation may not constitute a crime as such, unlike drugs or child pornography. At border controls or customs check points, the law enforcement authorities must be able to prove the timber's illegality to take any further action. It can, in many cases, become difficult or impossible to state whether the origin of the timber is legal or illegal. The illegality is all the more difficult to assess when the timber has been processed into finished manufactured products, which is often the form in which illegal timbe arrives at the country of importation.
- In itself, illegal logging constitutes a local crime that falls under national legislations. It is then a crime which is very difficult to prosecute "up to destination" since it does not imply the infringement of the laws or regulations of the countries that import and consume the timber or the countries in which the timber is in transit.
Illegal logging becomes relevant to international law enforcement only once the timber has left, or is in the process of leaving, the country in which it was cut.
Consequently, illegal logging must not become dissociated from the problem of illegal timber trafficking which is not as difficult to prove and prosecute.
- Timber traders can be subject to sanctions or prosecution for illegal timbe trafficking only on the condition that the timber traded is a species protected unde national laws or under CITES. This trade is regulated with a system of certificates and needs to fulfil specific conditions to be declared legal. It is often only in countries where the mechanisms of control and certification are codified in national legislations, such as in the EU, that the possibility of prosecuting the timber traders exists.
- The legality or illegality of the timber depends on the legislation of the country where the goods are located, not on the legality or illegality of the upstream process.
A piece of wood can originate from illegally logged timber and yet be sold with complete legality in another country. Therefore, the international characteristics of illegal logging raises two questions: Determining the country where the prosecution should take place, and determining the legislation under which the crime falls. In general, criminals are prosecuted in the country where the crime was committed and the legislation of that country is applied.