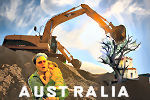 Federal Labor Member for Wills, Kelvin Thomson, has condemned reports in an article by Josh Gordon, "Push to cut planning appeals,"The Age, 29/11/11, that the Victorian Liberal Government is seriously considering proposals to further reduce the rights of residents to object to inappropriate developments in their neighbourhoods. (Mr Thomson's electorate of Wills, Victoria, Australia, has very high population and development density, with severe traffic congestion.)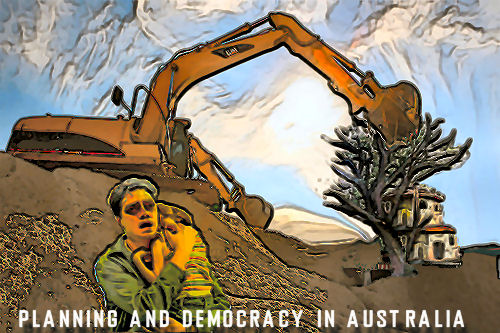 The Victorian Minister for Planning, Mathew Guy, is considering industry proposals to reduce the standing of the public to object to commercially-motivated development of their built and natural environment, according to the Age article.
Master Builders Association of Victoria executive director Brian Welch has been quoted as believing that current rules are ''excessively democratic'' and that they encourage ''vexatious objectors.''
Mary Drost, of Planning Backlash and www.marvellousmelbourne.org has said that she would be opposed to any reduction in rights to objection. She later observed that the Master Builders complain that 7% of applications end up in the Victorian Civil and Administrative Tribunal (VCAT). "What this says to me is that 93% go straight through. They have nothing to complain about as far as I can see."
The Victorian Treasury department has called for an overhaul of the land-planning framework to reduce conflicting policy objectives between government departments, which it sees as providing excessive scope for appeals.
''The land planning framework should be overhauled to reduce the scope for appeals due to conflicting policy objectives, clarify who has standing to appeal planning decisions and assess the potential for greater use of market instruments to achieve planning objectives,'' according to the treasury briefing document.
Federal MP, Mr Kelvin Thomson, says, "The last thing the Victorian Government should be doing is making it easier for developers to construct more high rise, more apartments and more concrete monstrosities."
"Premier Ted Baillieu and Planning Minister Matthew Guy when in Opposition were very critical of the former State Government's handling of the planning system. They have no mandate whatsoever to contemplate measures to further reduce residents say on planning and development proposals.
"The plans being considered by the Liberal State Government would provide less scope to appeal against contentious planning proposals. The Age report suggests that the appeal process could be pared back to cut the number of objectors, on the basis that it costs developers money.
"Such an approach displays an arrogant disregard for the costs that high rise concrete monstrosities impose on local communities- more traffic, more congestion, more carbon emissions, increased pressure on local infrastructure and services, the suffocation of local amenity and the effect on physical and mental wellbeing.
"All too often property developers make handsome profits at the expense of local residents and communities, profiting from infrastructure which local communities have built and paid for, and leaving locals to live with the inconvenience of loss of amenity which comes with more crowded neighbourhoods.
"In my own electorate there are numerous examples of residents and neighbourhoods being short-changed, disregarded, and left to pick up the pieces- such as the Union Street U108 development in Brunswick, the Kodak Redevelopment and former Coburg High School site in Coburg, the Bell St-York St and Cumberland Rd developments in Pascoe Vale, the former Tip Top Site, Nicholson St and 240 Lygon Street developments in Brunswick etc.
"Developers use doublespeak terms like "sustainable", "exemplary design", "efficient planning" and "reduced footprint". These are all code for removing residents' rights to meaningfully object to developments in their neighbourhoods.
"Any further moves to prevent residents from having a say will only damage the quality of life for residents in Melbourne, and take our city down the road of the high-rise concrete jungles of Asia and Latin America.
"The planning system needs to provide residents, local communities and local councillors with a greater ability to have a say on what developments are appropriate for their neighbourhoods- not a reduced one", Mr Thomson concluded.
Sources:Josh Gordon, "Push to cut planning appeals,"The Age, 29/11/11 and a Media Release from Kelvin Thomson MP, Member for Wills, Wednesday 30 November 2011. Media contact: Anthony Cianflone 9350 5777 or 0424 138 558