Mr Cole, 39, was among about 50 people gathered at Ipswich's One Mile Bridge who saw the distressed young animal out of its depth in the fast-flowing torrent.
" I couldn't watch a joey die .. I couldn't just stand by and watch Australia's national animal drown. I could see it little head bobbing up and down and I knew it didn't stand a chance".
Queensland floods: Cheers for our kangaroo rescuer - Herald Sun 13th January, 2011
Ray Cole, a father of five, was cheered by onlookers but threatened with arrest by police when he waded into turgid waters to pluck the drowning joey to safety.
Australia Day honours
Mr Ray Cole received honours from the Australian Wildlife Protection Council in Federation Square on Australia Day. He was flown down to Melbourne from Ipswich, Queensland, compliments of Virgin airlines, presented with a certificate and a reward, and given a lifelong membership to the organisation.
Kangaroos are our nation's symbolic animals, endemic to Australia and recognised world wide.
The damage done to property, and the tragic loss of human life, has overshadowed the heroes who are scanning the wreckage for injured animals.
Like the rescue of Sam the koala during Victoria's Black Saturday inferno, an Australia Day accolade for someone who rescued a drowning baby kangaroo is a symbol of acknowledgment for all the wildlife and animal rescuers who put their own lives on hold, and at times at risk, to save lives as a result of disaster is surely appropriate.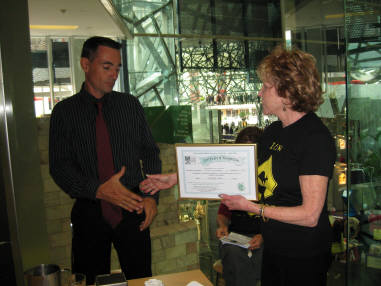 Photo- permission of Maryland Wilson, President of AWPC. She is handing the certificate to Ray.