Republished from PressTV. See also: Saudi Arabia's Princess Sara claims asylum in the UK of 8 July in The Telegraph, Russia should demand regime change in Qatar, Saudi Arabia, ... of 8 July, Kofi Annan: International Community Has Failed Syria of 8 July by Tony Cartalucci in Land Destroyer, Saudi regime forces kill two demonstrators in Eastern Province, Bahrainis rally to support Shia cleric detained in Saudi Arabia, Protesters to gather outside Saudi Embassy in London of 9 July in PressTV.
Editorial comment: The Saudi Arabian monarchy, from which Princess Sara is seeking asylum, is one of the Arab dictatorships which is supplying weapons and funds to the terrorist mass-killers of the so-called "Free Syrian Army". Should these Saudi/Israeli/NATO proxies win in Syria, the conditions from which Princess Sara fled will be the conditions that Syrian women will also have to endure.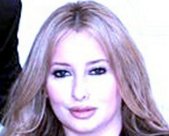 Saudi Princess Sara bint Talal bin Abdul Aziz (pictured) is seeking political asylum in Britain, alleging physical and mental abuse at the hands of Saudi authorities.
"I've been physically abused. I've been mentally abused. My assets have been frozen," she said in an interview with The Sunday Telegraph at a secret location in London.
She said that she was assaulted outside the Saudi embassy in London by an official, who tried to grab her arm.
"I am very scared right now," said the princess. "They know I can't go back now. There is a threat. That's a slap in the face of the Kingdom."
The embassy has turned down the princess' extended stay request in coordination with British authorities.
On Friday, her lawyers notified the Home Office of her intention to seek asylum.
Her allegations must be assessed by UK officials so the 38-year-old can be offered a safe haven, in spite of Saudi authorities' insistence on her return.
The princess went to the UK in 2007 after she fell out with her 80-year-old father Prince Talal bin Abdul Aziz Al Saud.
She also claimed that she has been subjected "to a litany of serious crimes, including threats, assault, an attempted kidnapping, and the attempted abduction of my children."
The motives are political, she argued.
"I am a threat because I am a reformer from within. My way is the modern Islamic way," she told the paper.
The political asylum request, which came weeks after the death of her uncle and main supporter Crown Prince Nayef bin Abdul Aziz, who was an opponent of her father, offers an insight into the tensions within the Saudi royal family.
Political analysts have predicted that the kingdom will experience instability in the near future as the poor health among the aging royal family augments the power vacuum amid a wave of protests over the persisting brutal crackdown on the Saudi people.