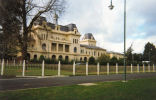 Incredibly, Heritage Victoria's second formal Permit refusal to allow a developer's plans to build within the tree lined avenue approach to the former Willsmere Hospital is set to be reviewed by Heritage Council Victoria. (See Herald Sun / Progress Leader 31 Oct 2017.) The Heritage Council will hold a Public Hearing commencing on the 18th June 2018 to review Heritage Victoria's rejection of Walker's application to build private apartments on the parkland.

Renewed threat to Kew Cottages Parkland
Sydney billionaire developer, Lang Walker, has lodged an appeal against Heritage Victoria's insistence that the whole of the avenue approach to Willsmere must be properly restored as parkland.
Brian Walsh, President, Kew Cottages Coalition, said today that, "Walker Corporation now appears to have spent over a decade trying to find ways to legally encroach upon this fabulous piece of public parkland."
This is the Sydney developer's fourth attempt to overcome the long standing Heritage permit conditions imposed on the Main Drive Kew housing estate development.