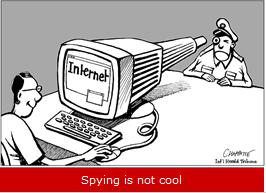 So Australia's Rudd Government proclaims that some internet content is "simply not suitable in a civilised society".
Mmmm, smells of public communications consultant speak!
This latest Ruddism could possibly become broadest claim of the 21st Century thus far. Could thy Rudd-speak imply anything beyond banning child porn? Could it in fact imply that any website critical of Rudd and Ruddism be instantly labelled 'not Rudd suitable' and so excommunicated by his holiness?
Check out today's ABC news 'Greenlight for internet filter plans' 15th December 2009.
So when can I but my brown shirt and leather sash, Herr Rudd?
Das Goebbels speak is said to save our innocent children from harmful overseas sites which contain criminal content, including child sex abuse and sexual violence.