Update, 16 June: (see comment) The House of Representatives Selection Committee has ruled that Julian Hill's motion cannot be put this coming Monday 21 June. That motion will now have to wait almost 7 weeks, until 9 August, in the next (joint - both Senate and House of Representatives) sitting of Parliament, before it can be put and debated!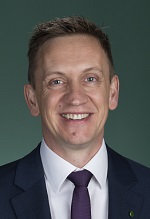 New important initiative. Labor MP Julian Hill's private motion may finally force Australian parliamentarians to take sides for or against Julian Assange and lead to his being freed. Whether this motion is heard and debated depends on whether the House of Representatives Selection Committee allows it. We urge Australians to contact their local members and each other to get behind Mr Hill's motion, which calls for Assange to be set free from his illegal imprisonment, noting that he is the recipient of many awards for journalism, detained for political reasons through an abuse of power. If the motion is allowed through, then both sides of the house will be obliged to vote or abstain, and the Australian public will finally see what they are made of.
Earlier this afternoon at 2:03pm, I received, from Labor Member of Parliament, Julian Hill, a response to an e-mail I had sent him and a number of other MPs at around 1:00am earlier today. That email included a PDF file which is attached below. That PDF contains a motion that Julian Hill hopes to put to the House of Representatives, this coming Monday 21 June, in support of Julian Assange. The text of the proposed motion is also included within this article as an Appendix. Mr Hill has given that Notice of Motion to the House of Representatives Selection Committee. That motion, if allowed by the Selection Committee, will be put to the House this coming Monday 21 June. Essentially the motion calls upon the Australian Government to act to end the illegal imprisonment of Julian Assange, to get the United States' government to cease its attempts to extradite Julian Assange and for Julian Assange to be allowed to return to Australia.