In our article, "Melbourne Planning: Minimum sunlight for parks in city of growing shadows," we noted that Melbourne City Council intended to form a special committee to evaluate submissions already received on this matter. We have a new absurd and revealing update (and include a relevant email from MCC below, filled with unintended or inescapable ironies). Tragically and hilariously, the majority of Melbourne City Councilors have a vested interest in the matter of minimum sunlight (i.e. in property development) and so are unable to form a quorum (!!!). They have needed to excuse themselves on a basis of conflict of interest. What Melbourne City Council intends to do now is to get the council staff to write a report for the consideration of a small 'independent' committee made up of planners (and not including people who want to protect parks). Although planners will doubtless have vested interests as well (if only in keeping their jobs - but most the city goes to are developers) they are considered 'independent' because they are not employed or officiating on the council! Of course, the point about being independent is not whether or not one is associated with the council, but whether one has a commercial interest in a matter under consideration. We are living in such dumbed-down and dishonest times, however, that this meaning has been lost, especially to government. Maybe professional developers and planners and their associates, who always have professional and vested interests in development, should be excluded from councils. Mayor Sally Capp comes to mind.[1] [Illustrations added by https://candobetter.net.]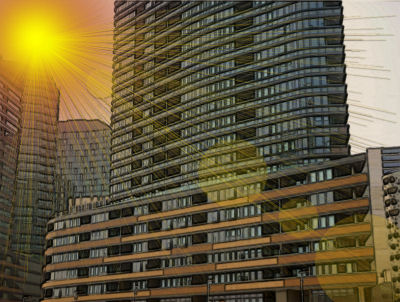 Email from Melbourne City Council
From: Leonie Dunlop
Subject: Planning Scheme Amendment C278 Sunlight to Parks - FMC update
Date: 31 January 2020 at 4:54:00 pm AEDT
To: Planning Policy
Dear Sir/Madam
Re: Melbourne Planning Scheme Amendment C278 Sunlight to Parks
Thank you for your recent submission on the proposed Planning Scheme Amendment C278 Sunlight to Parks.
[Emphasis added.] The proposed amendment seeks to protect sunlight in public parks, while allowing for growth and supporting more intense development in appropriate areas of the municipality.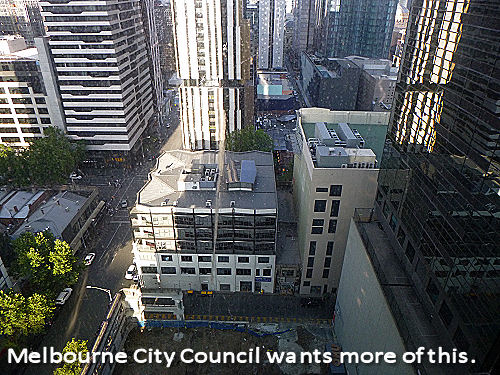 Please be advised that the item is due to be considered at the Future Melbourne Committee meeting at Melbourne Town Hall on Tuesday 4 February 2020. The agenda and Council report is now available online here.
However, we wish to advise that the majority of the Councillors have indicated that they have a conflict of interest and will need to leave the meeting in accordance with the requirements of the Local Government Act 1989.
A loss of quorum means the matter cannot be considered at the meeting and will be dealt with by a City of Melbourne officer under delegation.
With a loss of quorum, there will be no opportunity to make a verbal submission on the matter.
The City of Melbourne will request that your submission be referred to an independent panel for consideration and to make recommendations on the amendment.
If you have any questions, please contact Robyn Hellman, Team Leader-Planning Policy by email at [email protected] or telephone 9658 8696.
Yours sincerely
Kate Dundas | (Acting) Director City Strategy | Strategy, Planning and Climate Change
City of Melbourne | Council House 1, 200 Little Collins Street Melbourne 3000 | GPO Box 1603 Melbourne 3001
T: 03 9658 9938 | M: 0452 00 492 | E: [email protected]
www.melbourne.vic.gov.au | whatson.melbourne.vic.gov.au
We value: Integrity | Courage | Accountability | Respect | Excellence
The City of Melbourne respectfully acknowledges the Traditional Owners of the land, the Boon Wurrung and Woiwurrung (Wurundjeri) peoples of the Kulin Nation and pays respect to their Elders, past and present.
Please consider your environmental responsibility before printing this email.
NOTES
Sally Capp was the Victorian Executive Direct for the Property Council of Australia, a peak growthist organisation dedicated to property development and population growth, which has unashamedly sought and achieved huge political influence for itself, at the expense of Australian democracy. According to Property Council of Australia Chief Executive Ken Morrison, Ms Capp has now formally resigned from the Property Council. https://www.propertycouncil.com.au/Web/Content/Media_Release/National/2018/Sally_Capp_s_election_as_Lord_Mayor_of_Melbourne___Property_Council_appointments.aspx