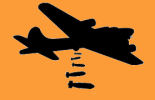 The escalating tensions between US and China are directly impacting on Australia militarily, economically and politically and threaten to drag Australia into another imperialist war, according to the Independent and Peaceful Australia Network. IPAN calls for an independent foreign policy from all big powers, and that includes independence from both China and US; an independent foreign policy that promotes friendship with people from all countries.
Recently we have been subjected to sensational mass media stories alleging interference in Australian politics by China. Some, like the recent headlines in Fairfax media repeating a claim by an ex ASIO chief that "China is out to take over our political system", are clearly a gross exaggeration if not a straight out lie. Even if there is truth in the allegation that an individual was feted and supported to try and enter Federal Parliament as a "proxy" of the Chinese Government, and that is a matter of concern, it hardly constitutes a take-over of Parliament or our political system.
All big powers, and smaller ones like Australia, engage in espionage with the aim of gaining sensitive information and influencing the policies of other countries.