"The big issues we feel are job security, housing affordability, planning in our suburbs and our environment. And all of those major indicators are going backwards with this onslaught of rapid population growth. So, it's changing our daily lives. It's gone beyond some big number into the future. It's actually hitting us in the face when we drive out of our driveway in the morning and we try and get to work. Or when we try to look up a job when we try to get our next opportunity. Or when we look at our green space in our suburb that's disappearing. Or looking at our urban heritage… that's just being bulldozed for this highrise development". (William Bourke, Sustainable Australia Party, speaking on 3AW to Neil Mitchell)
Census data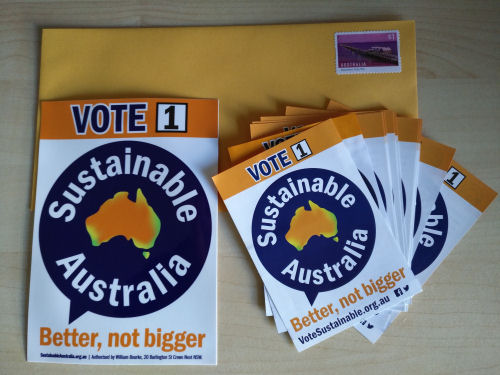 William Bourke writes:
The release of the Census data this week shows that Australia's population expanded by 372,805 people over the year to December 2016 to 24,385,625 people. There is no political mandate for this extreme and unsustainable growth. In the fight for an economically, environmentally and socially sustainable Australia, our party publicly questions this growth. It's a tough job...
Day after day the unholy alliance of big business and the globalist new left send out their propaganda merchants to try to stigmatise anyone questioning Australia's extreme level of immigration-fuelled population growth. But we won't be bullied. We won't cower.
We need a sensible level of immigration. We also know that the silent majority, that lacks the media voice of the abovementioned minority groups, rejects the ideological and greed-driven 'big Australia' agenda.
By the way, what ever happened to the old, real left - that cared about workers' rights and the environment?
Jobs, Housing, Planning, Environment
As a centrist party, Sustainable Australia will continue to fight this extreme growth agenda. We know that unless we do, we can't achieve a sustainable Australia with secure jobs, affordable housing, better planning and a sustainable environment. As part of a broader policy mix, we must return annual permanent immigration - from a record of over 200,000 - back to the long term average of 70,000.
This week I took this message to the media including 3AW's Neil Mitchell.
Macrobusiness published the text of the interview on 3AW and candobetter.net is republishing it here:
Mitchell: "When you look at these [Census] figures, how do you argue it's changing Australia?"

Bourke: "It's changing Australian in every way possible. We need to talk about the numbers rather than having racial rants. This is about an Australia being better rather than being ever-bigger. There's no mandate for this rapid population growth. No party has taken this to an election, so that's the starting point".

Mitchell: "How is it changing the country…"?

Bourke: "The big issues we feel are job security, housing affordability, planning in our suburbs and our environment. And all of those major indicators are going backwards with this onslaught of rapid population growth. So, it's changing our daily lives. It's gone beyond some big number into the future. It's actually hitting us in the face when we drive out of our driveway in the morning and we try and get to work. Or when we try to look up a job when we try to get our next opportunity. Or when we look at our green space in our suburb that's disappearing. Or looking at our urban heritage… that's just being bulldozed for this highrise development".

Mitchell: "Do you believe that immigration should be based on race?"

Bourke: "Absolutely not. It's an issue of numbers. The real issue is that the permanent immigration program to Australia – which is the key driver of our population growth… The key driver of our rapid population growth is our record immigration program of around 200,000 per year. That is triple the long-term average of 70,000 per year. And that's why places like Victoria are growing by 150,000 people a year rather than its traditional 50,000 per year"

"All we need to do is wind that [immigration] back to what it was 20-years ago to that long-term average – no discrimination based on race or religion or any of those things – just dial it back to the long-term average"…
We won't give up. Join the fight today.
Monthly coffee meet up
We're starting monthly coffee meet ups across Australia, on the first Sunday of the month. Initially this will be in Brisbane and Canberra.
You'll be able to meet like-minded people, join the party (via your mobile phone!) and pick up stickers and flyers. Stay tuned for more locations in coming weeks and months.
Speaking of stickers, we can post you one (or two) for free, with 20 letterbox flyers for your street and/or family and friends. Please simply ask us via the contact us link below. Include your postal address if you're not a member.
New website address
This week we changed our main website address from VoteSustainable.org.au to SustainableAustralia.org.au. There may be a few short-term disruptions, including to website links in recent eNewsletters. [Candobetter.net Editor: Just use a search engine like https://duckduckgo.com to go to these addresses. Candobetter.net has not linked directly to these sites because they do not have SSL certificates - which is really no big deal - except that it makes Chrome and Firefox browsers remove the 'green triangle' from our site if we link directly and some readers then think there is something wrong. Sorry for the boring technicality.]
: Newsletter from William Bourke of Sustainable Australia