Kelvin Thomson, MP for Wills, has written to Prime Minister Gillard, asking her to consider and respond to the concerns of constituents about planned changes to the federal environment act. Have any other ministers done this? We would like to hear from them if so. See also this article which contains links to petitions etc.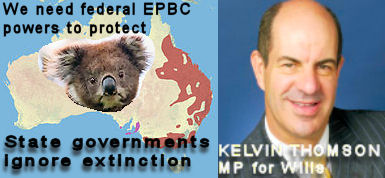 There is no doubt that Kelvin Thomson MP for Wills electorate is more on the ball than most MPs - ALP, Green or Liberal - where environment and democracy are concerned. He also seems to be one of very few MPs with any concern about the lives of other creatures or the preservation of nature and place and the impact of high immigration on environment and democracy. We would certainly like to hear from any other MPs who have tried to bring the Labor government to its senses in its looming plan to yank out the last teeth of Australians' only useful remaining environmental law, the Environment Protection and Biodiversity Conservation Act.
Letter to the Prime Minister
November 21, 2012 The Hon Julia Gillard Prime Minister PO Box 6022 House of Representatives Parliament HOuse Canberra ACT 2600 Dear Prime Minister, I am writing on behalf of constituents who have emailed me expressing concern with the plan set out in the April 2012 Council of Australian Governments (COAG) communiqué that will wind back critical environmental protection laws. I have enclosed copies of these emails for your information. As you can see, the concern expressed about the plan relates to deferring federal powers to the states which could result in the fast tracking of approvals for large developments that could compromise Australia's natural heritage. My constituents want the Australian Government to retain the powers they currently have to oversee matters of national environmental significance and to ensure the protection of our land, water and wildlife for all Australians. I would greatly appreciate your consideration of these concerns and response as to what steps the Australian Government will take to ensure our environmental treasures are not vulnerable to weaknesses in State Government environmental commitment. Yours sincerely, Kelvin Thomson MP Member for Wills Ed: This letter was also sent to Tony Burke, Minister for the Environment and to Penny Wong, Minister for Deregulation and Finance. Emails from Kelvin's constituents were attached. See also this article which contains links to petitions etc.