The ACT government is driving a terrible animal Holocaust involving thousands of kangaroos. This is becoming close an annual event. To wildlife carers, the official rationale seems about as sane as Hitler's reasoning for driving whole sections of society into concentration camps. The ACT government wants more people in Canberra because the growth lobby wants to sell more land and house packages. The violence and dodgy science used to excuse this behaviour, supposedly to protect native grasses, would be funny if we were not actually expected to take it seriously and if hundreds of kangaroos were not currently lying slaughtered in pits for no good reason.
For pictures of the slaughter so far see Article with photos of dead
According to the Australian Society for Kangaroos (ASK)[1] one of the parks where yet more kangaroos are to be killed is where the ABC did a documentary on Canberra's Kangaroos which went to air earlier this year. The main scientist featured in that documentary admitted that the mortality rate of joeys (baby kangaroos) is 70%.

Picture of what ASK believe to be death pits at Mugga Lane where the ACT government will dispose of the cull victims.
Comment from Sheila Newman: At this rate they will wipe out Canberra kangaroos completely. It has been estimated that a female kangaroo only replaces herself in a lifetime due to the low survival rate of baby roos. This is especially true in wildlife-hostile modern Australia, where the mobs and clans that provide social support for kangaroo families are dispersed and fragmented, leading to short-term population booms, as kinship rules are lost, and long-term population busts, as the supportive network of mobs across established territories is destroyed by human infrastructure expansion and activity.[2]
The Australian Society for Kangaroos (ASK) has said that animal activists have located what is believed to be fresh graves at Mugga Lane where 2000 of Canberra's iconic kangaroos will be buried during this year's slaughter, including the stars of the recent ABC documentary "Kangaroo Mob".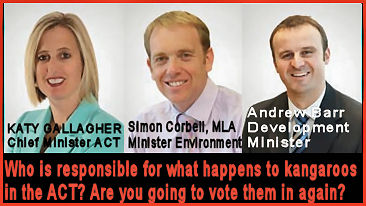 The Canberra government today announced it will shoot another 2000 kangaroos in Canberra nature parks only months after bringing in cattle to control the overgrowth of grasses.
Sadly this years cull will target Wanniassa Hills Nature Park where Madge and her joey Sonny, much loved stars of the recent documentary "Kangaroo Mob", reside.
The announcement of yet another massive kill has shocked animal advocates who are still reeling from the government's massacre of 75% of the kangaroo population in ACT nature parks last year. Despite claims by the ACT government that their killing program is about protecting threatened species, they have failed to provide any credible evidence to support this claim. (See ACT Roo killings: Who profits? Behind the Earless Dragon mask," for a comprehensive analysis of the 'science' behind the ACT rationales for massive culls.
ASK says that the ACT government has also refused recent Freedom of Information requests from the Australian Society for Kangaroos relating to questions about recent culls in ACT nature parks.
They allege that the Canberra government has breached multiple FOI laws by failing to respond to ASK's request about their kangaroo culls within the legal time frame. They say that four months after the request was lodged, the ACT government refused to provide any of the documents requested. ASK say they will be appealing this decision with the ombudsmen and the Administrative Appeals Tribunal.
Protesters from across Australia wanting to defend Madge Sonny and their fellow kind are gearing up to descend on Canberra ready for a fiery front line battle with park authorities.
For those wanting to protest this massacre please contact:
Katy Gallagher ACT Chief Minister
GALLAGHER[AT]act.gov.au
Shane Rattenbury ACT GREENS
rattenbury[AT]parliament.act.gov.au
PM Julia Gillard
http://www.pm.gov.au/contact-your-pm
Lee Rhiannon GREENS ANIMAL WELFARE
senator.rhiannon[AT]aph.gov.au
NOTES
[1] Source: "Action Alert: Canberra plots death of tv heroes Madge and Sonny," from the Australian Society for Kangaroos
[2] For a critical analysis of population dynamic theory for humans and other species, read, Sheila Newman, The Urge to Disperse, Candobetter Press, 2012