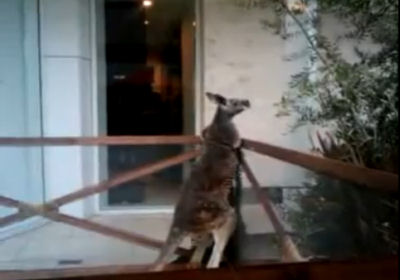 Click on image for more on locality and handlers
Original story from Beverley Hills observer
The footage here and the story below were posted on January 18, 2010 by Geekylie. Editorial comments, contact details of people responsible, and links to sites and films where you may learn useful things about kangaroos and see lovely photos are below her story.
"Saturday 16 & Sunday 17 January, 2010 Venue: The Paley Center for Media, Beverly Hills:
Tourism Australia had a huge kangaroo on the concrete - on a busy busy footpath, it even started raining. The kangaroo was next to (8 to 10 feet away) from a busy busy street and was so traumatized it was rocking back and forth over and over again. On Saturday it was running around and round in circles, chasing its tail in a craze.
Sunday (when a friend and I took the pics & video) a Tourism Australia Employee just stood around rolling their eyes while bystanders were clearly disturbed.
I am not affiliated with any activist groups, I am just someone who works in Beverly Hills,and had to walk past this atrocity two days in a row. At one point one of the Australian Tourism worker rolled her eyes and called me 'pathetic' for caring about the animal that was clearly in distress.
I have contacted all local & Australian media and US Animal right groups, including PETA, SPCA, The Humane Society and Animal Liberation. The Police, Fire Dept, and Animal Control are also aware of this disgusting act of cruelty in the name of Tourism Australia. I am also sending all this media to Travel Agencies, Hotel Chains, and also NZ Media outlets, who I know will love to get some bad press on terrible Aussie tourism PR practices.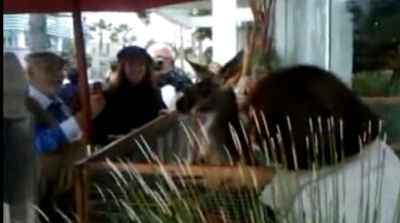 Is this REALLY going to get people to go to Australia?
It REALLY gives new meaning to the lyrics "Tie me kangaroo down Sport" doesn't it?
To express your disgust, please contact: MHatch[at]tourism.australia.com or email or call any of the numbers at tourism.australia.com. This is a very busy footpath, and the HUGE ADULT kangaroo was there for over 5 hours, running around and round in circles, chasing its tail - it was sooo traumatized that people were leaving in tears."
Official description of the 'event':
"Angelenos are invited to experience a little slice of Australia in the heart of Beverly Hills. A program of multimedia events from wildlife and music to "walkabout" travelogues and cultural performances will ensure that there is something for everyone. Visitors will take a journey through some of Australia's iconic landscapes as well as its undiscovered gems with interactive displays and destination showcases. Visitors can also hear from special speakers, including National Geographic photographer Annie Griffiths Belts. Sunday will feature a special wine tasting event with Wine Australia, open to the public.
The event is open to the public from 10.30 am to 3.00 pm with ticketed KCRW events following each day:
KCRW Music Showcase with DJ Jason Bentley will take place Saturday January, 16 at 3.00 pm.
KCRW's Good Food Live event featuring KCRW's own Evan Kleiman will take place Sunday January, 17 at 3.00 pm. The event will feature Australian celebrity chefs including Curtis Stone and Pete Evans."
Editorial Comment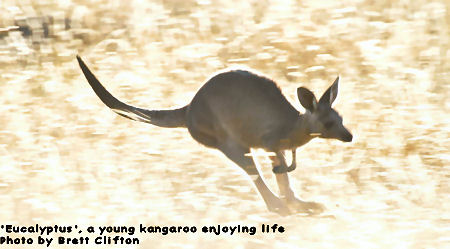 Thank you Geekylie for exposing the bear-baiting mentality of ?official representatives for our country. They deserve to be exposed in the same way as the kangaroo, which did not, of course.
This is unfortunately a really good example of how governments and commerce in Australia regard kangaroos and other wildlife - as unfeeling novelties to be used, abused and make money out of. These people do not represent thinking Australians and one hopes that Americans will realise this.
Only people truly deprived of knowledge, joy and empathy would find this kind of thing acceptable. That people 'marketing' Australia should be so unaware of the impact of their 'event' shows that 'enlightenment' is really just an illusion still in some quite influential circles, notably the commercial ones.
The kangaroo is an animal that lives in families and clans, associated with larger mobs. They have strong family hierarchies and take comfort and joy from each other. Whoever put this animal by itself in this situation - which would threaten a domestic dog or a child - needs to leave the city and go and learn about the natural world and the sentient creatures that inhabit it.
The best film we have ever seen about kangaroos is called Faces in the Mob. After you have seen it you will understand and know many more things about kangaroos and ourselves than most people ever realise. You can buy it in NTSC and Pal format here.
If you want to support Australian Wildlife, here is a place to start: The Australian Wildlife Protection Council. Note also that a new political party has just formed to defend wildlife and domestic animals in Australia. It is called The Animal Justice Party.
Please let us know what happens to the kangaroo
We would like to hear about where the kangaroo went from here and whether it has companions of its own species. How did Australia allow a kangaroo to be exported to the US in such circumstances anyway? One assumes that kangaroos sometimes go to zoos in the US (even though this is a horrible fate for a wild social animal), but how do they get from the zoos to Tourism Australia?
Who is responsible?
Who is responsible for this kind of attitude? Martin Ferguson (Email: Martin.Ferguson.MP[AT]aph.gov.au ) is the Federal Minister with the Tourism Portfolio, which Tourism Australia, reports to. Tell him what you think and get him to investigate this situation where kangaroos are manhandled, isolated and exposed in another country.
"Tourism Australia is a statutory authority of the Australian Government, which promotes Australia as a tourism destination internationally and domestically and delivers research and forecasts for the sector. Tourism Australia reports to the Cabinet Minister with responsibility for tourism, the Hon Martin Ferguson AM, MP.

Established on 1 July 2004, Tourism Australia brings together the collective skills and knowledge of four separate organisations: the Australian Tourist Commission; See Australia; the Bureau of Tourism Research and Tourism Forecasting Council. The main objectives of Tourism Australia under the Tourism Australia Act 2004 are to: * Influence people to travel to Australia, including for events; * Influence people travelling to Australia to also travel throughout Australia; * Influence Australians to travel throughout Australia, including for events; * Help foster a sustainable tourism industry in Australia; and * Help increase the economic benefits to Australia from tourism.

Tourism Australia is a statutory body subject to the Commonwealth Authorities and Companies Act 1997 (CAC Act). This recognises the commercial focus of the new body and the need for it to operate flexibly in a commercial environment."
Personally I thought Steve Irwin did it much better.
The kangaroo does need help, like wildlife everywhere. In Australia kangaroos are victims of developers(film) and our development and population growth mad and corrupt governments. There are some sick sectors in our society and it seems that Tourism Australia may be right up there among them.
Friends interacting - photo by Brett Clifton
Sane Australians, however, want to cherish these amazing creatures. Have a look at Brett Clifton's photographs of generations of kangaroos on his land, which he sends out daily to people all over the world.
You can read a lot more about kangaroos here.
There are also nine ten-minute documentaries on kangaroos - mostly interviews with ex-butcher, Pat O'Brien on the roo meat industry, the problem of human expansion for kangaroos, the way that statistics are collected about them, and of how Steve Irwin found Pat O'Brien and funded his life-long work of kangaroo protection. Pat O'Brien's site is http://www.kangaroo-protection-coalition.com/index.html.