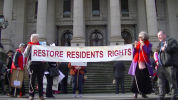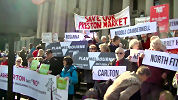 Congratulations to Mary Drost, Planning Backlash Convenor, for pulling this event together to signify residents' disgust at Victoria's government steamrolling property and civil rights. The turn out of groups was huge, since everyone understood how wrong the government plans are. The event was held on the steps of Parliament House. These steps had been booked in advance but, on the evening before, Planning Backlash discovered that the steps had been double-booked for the same hour. An increasingly absurd scenario loomed as the double-booked World Oceans Day plastic bag protest planned to float a giant whale and to simulate the roll of the ocean with a constant drumbeat. Eventually it was agreed between the two rallies to face in different directions and occupy only half of the steps. A very good rented PR system meant that Planning Backlash speakers could be heard most of the time, except right at the end when the batteries gave out. Jack Roach, of Boroondara Residents Action Group (BRAG) who had introduced all the speakers, rounded up the event without benefit of any amplification. Mr Roach talked about the Residents' Bill of Rights: "They have been sent to every politician, state, federal, and every council. And they have been asked to help us bring in the Residents' Bill of Rights. So far, nothing has happened. So today, we're going to push it a bit further. I'm going to read out now what we want to put to the government. The following are what we want and what we are going to put as a resolution to today's meeting to the government: [...] That the Victorian parliament ban developer contributions to political parties; restore protection for residential zones; implement mandatory heights and set-backs in mixed use and commercial zones at council discretion; abandon plans to expand fast-track no-review VicSmart applications." This was put as a motion to those assembled and passed.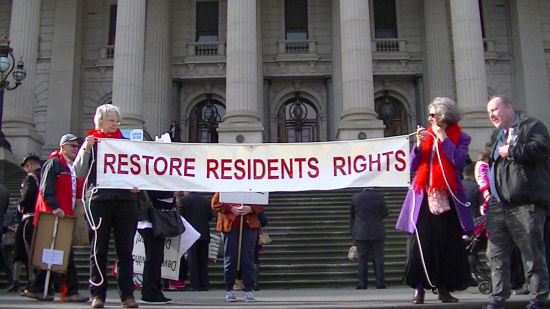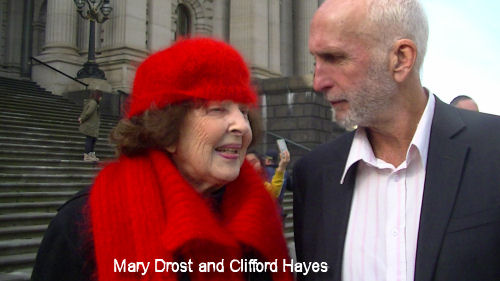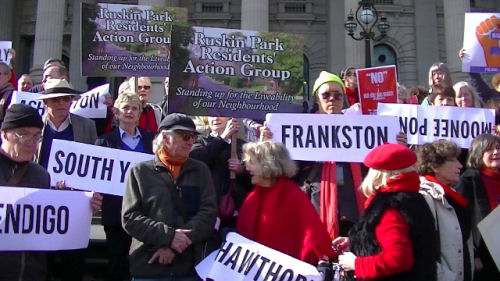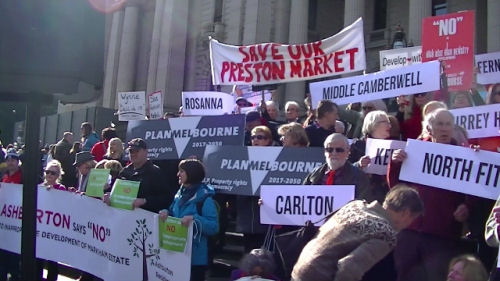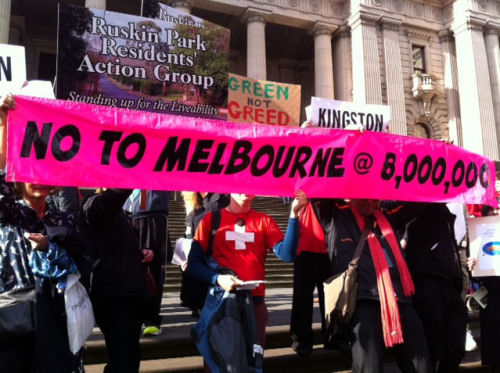 Speakers
The speakers were:
- Jack Roach of Boroondara Residents Action Group (BRAG)
- Professor Michael Buxton
- David Davis, MP and Shadow Planning Minister
- Clifford Hayes, Brighton
- Brian Walsh, Kew Cottages Coalition
- Anthony Searles, Boronia
- B. McNicholas, Save St Kilda Road
- Mary Drost, Peninsula and Monash
- Brad Marsh, West Alphington
Videos of all their speeches can be found on this channel: QueenieAlexander2000 and on candobetter.net.
No to Melbourne at 8,000,000 sign
This sign appeared right at the end of the rally as a protest against a sudden arrangement requiring that objections to population numbers not feature at this rally. Planning Backlash is not usually backward in mentioning population numbers, but pressure was exerted by some groups inside Planning Backlash. This decision is explored in this article: 3 Groups censor the rest on population numbers at Planning Backlash Rally 8 June 2017.