Logging is set to start within weeks in a forest that supports the last known koala colony on the NSW far south coast.  There has been a fractious debate between staff from the Department of Environment and Climate Change, which managed the koala research effort, and Forests NSW, the government agency that will manage the logging operation.
The marsupials are listed as a vulnerable species in NSW, but there is controversy over how many are still alive in the wild.
Early results showed evidence of koalas at about 50 sites in forest between Gulaga and the Mumbulla mountains.
Based on these findings, the NSW Environment Department issued a statement which described Mumbulla as ''a stronghold of the species'' on the far South Coast.
Timber harvesting in Yabbra Forest near Casino late last year damaged areas used by the highly endangered black-striped wallaby, koalas and yellow-bellied gliders, among several other protected native species, according to an independent report.  A high proportion of trees used by koalas and gliders had been felled and some buffer zones around waterways had been ignored.
Greens MP and south east NSW spokesperson Lee Rhiannon has called on Premier Kristina Kenneally to step in to save a koala population under threat from logging in the Mumbulla State Forest. The NSW Premier should hang her head in shame if she allows the last known koala habitat on the far south coast to be destroyed on her watch, Ms Rhiannon said.
Forests NSW has indicated that logging in Mumbulla State Forest will start early in March 2010.
According to the Australian Koala Foundation, koalas are in serious decline suffering from the effects of habitat destruction, domestic dog attacks, bushfires and road accidents. The Australian Koala Foundation estimates that there are less than 80,000 koalas left in the wild, possibly as few as 43,000. 
There are four states where koalas occur in the wild - Queensland, New South Wales, Victoria and South Australia - and each state has its own legislation.
The Federal Government passes responsibility for protection of koala habitat to the states.
The NSW Government first listed the koala as 'Rare and Vulnerable' in 1992 and this status was later reaffirmed as 'VULNERABLE' within the Threatened Species Conservation Act 1995. In recognition of the continuing decline of koalas and koala habitat in NSW, in early 1995, the NSW Government introduced State Environment Planning Policy No 44 - Koala Habitat Protection (SEPP 44).
This is the first state-wide species-specific planning policy introduced by any government in Australia. This Policy aims to encourage the proper conservation and management of areas of natural vegetation that provide habitat for koalas to ensure a permanent free-living population over their present range and reverse the current trend of koala population decline:
(a) by requiring the preparation of plans of management before development consent can be granted
in relation to areas of core koala habitat, and
(b) by encouraging the identification of areas of core koala habitat, and
(c) by encouraging the inclusion of areas of core koala habitat in environment protection zones.
Reported: Two other scat sites were located in Murrah SF that team participants concluded were likely to be koala scat but further analyses were unable to provide definite confirmation of this (B. Triggs pers. comm.). One of these scats, collected at 766574/5955437 could only have been from very young animal if it was from a koala .
Even one koala means that it is koala habitat.  Destroying potential habitat is adding to the threat!
Our relationship with non-human species is ambivalent and there are some species that serve our interests, for resources or companionship, and others that are treated as novelties and thus seemingly without any real purpose. There is so much indifference to Australia's original native inhabitants, and our environment, and our extinction record is the worst in the world.  In the last 200 years nearly 40% of mammal species that have disappeared are from Australia (WWF figures).
With increased urban living, population growth and cultural diversity, we as a society are becoming divorced from Nature and our unique land.  As an aggressive, and arrogance self-centred species, we humans could easily eradicate our native animals, even flagship ones like kangaroos and koalas.  They are all on the extinction trail, and all vulnerable to attacks by humans who see them as no more than vermin or rodents - optional features without any real value that can even be killed for sadistic entertainment or steal their homes for selfish interests.
We as a society embrace the suffering baby koala hit a close range, but ignore the on-going savagery of land-clearing and urban sprawl.  Losing trees makes koalas vulnerable to sadistic humans, stress, starvation and roving dogs.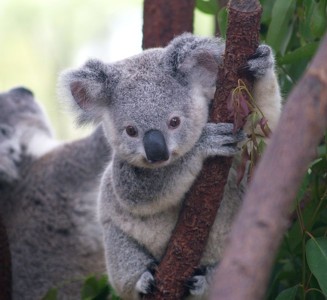 Koalas should be declared Endangered now, before it is too late to save these world-famous flagship and much-loved animals.
Our governments have hijacked long-term interests in Australia's biodiversity for the short-term benefits of jobs, population growth and profits.
Please contact those below to send your objections:
Department of Climate Change, Water, NSW
[email protected]
Head office
59-61 Goulburn Street, Sydney
PO Box A290, Sydney South NSW 1232
Phone: +61 2 9995 5000
Mr Frank Sartor, MP
Minister for Climate Change and the Environment
Minister Assisting the Minister for Health (Cancer)
telephone: (02) 9597 1414
fax: (02) 9567 0508
email: [email protected]
Address: Shop 3A, 452  Princes Highway, ROCKDALE NSW 2216
The Hon. Ian Macdonald, BA(Hons) MLC
Minister for State and Regional Development
Minister for Mineral and Forest Resources
Minister for the Central Coast
Telephone: (02) 9228 3344
Fax: (02) 9228 3452
Email: [email protected]
Address: Governor Macquarie Tower
Level 36, 1  Farrer Place, SYDNEY NSW 2000
The Hon. Tony Kelly, ALGA MLC
Minister for Planning
Minister for Infrastructure
Minister for Lands
Deputy Leader of the Government in the Legislative Council
Leader of the House in the Legislative Council
Telephone:
    (02) 9228 3999
Fax:
    (02) 9228 3988
Email:    [email protected]
Street Address:
    Governor Macquarie Tower
Level 34, 1  Farrer Place, SYDNEY NSW 2000
Send a letter to Peter Garrett, and our Prime Minister. Click on the link