Taxpayers should not be funding handouts to help "restructure" this vile and cruel industry.
How dare John Kelly of the despicable commercial kangaroo killing industry ask for handouts due to the fallout from Russia placing a ban on kangaroo meat imports!
The ban has been in force since August, after the Russian government agency, Rosselkhoznadzor, first voiced its concerns about
possible contamination.
Now the struggling Australian industry is appealing for assistance from the federal government.
There is too much hiding behind the shooters code of practice, and publicity that the action is humane. That deludes the public that it's all done without pain or trauma to the animals being killed.
Kangaroos shot at in the dark are easily traumatized, and they are very stress-prone animals. How could all these shots be "clean" head shots, without near misses? The code of practice is not humane. Who is responsible for setting the guidelines for what is 'humane'?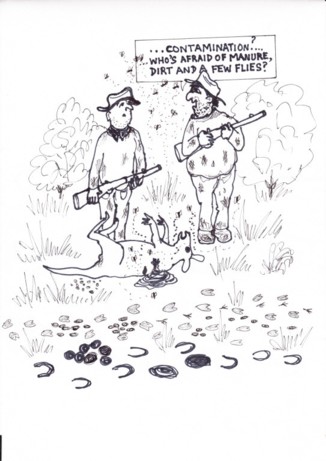 (art work: courtesy of Carol Drew)
How is butchering joeys in the pouch "humane"? What about at-foot joeys killed by foxes, or starvation? There is nothing "humane" about these massacres of wildlife, and it lies heavily on Australia's reputation as being environmentally and wildlife "friendly"!
This industry is over, and they cannot continue to promote it as "sustainable" or "humane". It is hiding the real cruelty and unhygienic conditions of these killings. These employees need to be retrained and re-educated so that they can be employed in some profitable and ethical industry, such as wildlife officers or tourism.
A Russian government agency says a ban on kangaroo meat imports could be quickly lifted if Australia satisfies Moscow's concerns.
The ABC understands the ban will also be discussed at a meeting of Australian and Russian government representatives in Moscow.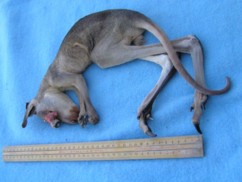 (photo: courtesy of Bernie, from Googong kangaroo massacre, ACT)
The harvesting of kangaroos is being successfully promoted by the kangaroo industry as free-range farming producing a healthy meat alternative to traditional meats.
Kangaroo "harvesting" has even been celebrated by some as having the potential to
restore Australia's pastoral lands by reducing the numbers of damaging hard-hoofed
livestock such as sheep and cattle on the land. This report demonstrates that the
industry's claims are only partial truths or outright misinformation. This report exposes
the realities of the kangaroo industry which include extensive and alarmingly
unhygienic practices, unacceptable suffering of both young kangaroos and adults and
the manufacture of false hope that kangaroo harvesting will alleviate environmental
degradation in rural areas.

The kangaroo industry will contend that only one to six percent of adults are mis-shot (depending on the state); when considering the enormity of the harvesting industry this equates to too many breaches of ethical practice. An independent assessment of occurrences of mis-shot kangaroos suggests that the percentages are actually much higher, possibly up to 40 percent.
Dror Ben-Ami, PhD
On behalf of Animal Liberation NSW
2009
Food will also be on the menu in Russia during Premier Anna Bligh's latest overseas trade mission. She will argue against a ban on kangaroo meat imports.
She told parliament that products such as kangaroo sausages, also known as "kanga bangas", were a favourite in her household where her family dined on kangaroo twice a week.
This woman is clearly no lover of wildlife, and she is representing the people of Australia to promote the wholesale slaughter of our iconic animals! Already koalas in Queensland could be extinct in 7 years, and endangered lungfish will be wiped out by her Traveston Crossing Dam in the quest for population growth!
This atrocity compromises us in directly intervening in Japan's illegal whaling and protests over Canada's seal slaughter. Our kangaroo killing industry is on a much larger scale than these wildlife massacres.
The commercial kangaroo killing industry is the largest on-going slaughter of terrestrial wildlife in the world!
"It's embarrassing for Australia that we eat our own wildlife ....I'm here to tell you it's just not right. Simply do not buy, use or eat kangaroo products."
~ Steve Irwin
No kangaroo meat website
Learn more at Stop kangaroo killing