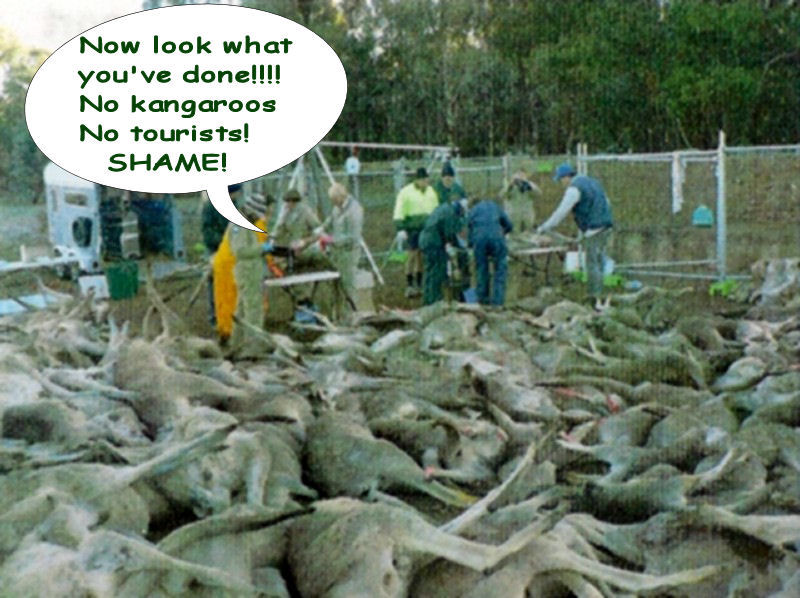 Eastern Grey Kangaroos should be safe in our "Bush Capital", however, they are being rounded up, hounded and killed. These deaths are being justified not because they are "starving" now, but ironically, in the name of Conservation!
Kangaroos are not part of our economy, and don't supply jobs, and that is what everybody is concerned about now! People and livestock add to economic growth, and wildlife only get a few tourists.
Canberrians want to deny kangaroos even the little grass they eat because they are being labelled as an environmental "threat" due to some dubious and shonky pseudo-science! Even joeys, orphaned by road accidents, must be "humanely" killed instead of being cared for by wildlife rescuers, all in the name of "conservation" and "animal welfare"!
Kangaroos are part of our biodiversity, part of our bushland's ecology. Surely tourists expect to see mobs of our iconic native animals? However, thousands were "culled" for being "starving", which they weren't, and now they are being "managed" as an environmental threat!
Animal activists do not have a lot of funds, but they can advise tourists not to visit Canberra, especially if they hope to see the bush with its native kangaroo populations.
PROTESTS CAN BE MADE AT:
Australian Capital Tourism, General Manager Simonne Shepherd
[email protected]
Canberra and Region Visitors Centre
[email protected]
Enquiries 1300 354 154
The ACT head office
[email protected]
Email address for the Canberra and region visitors centre is [email protected]