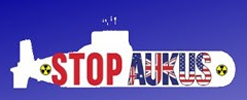 Melbourne State Library 1 pm Saturday 18 March against AUKUS US $170b nuclear sub purchase and alliance No AUKUS Coalition, Solidarity Melbourne and Melbourne 4 Assange.
The No AUKUS Coalition, Solidarity Melbourne and Melbourne 4 Assange have organised a public protest at 1pm on Saturday 18 March outside the State Library of Victoria. As the Australian armed forces with its eight US-manufactured nuclear-powered hunter-killer submarines, costing a staggering $170 billion, could become become an integral part of the the US military and used in its planned war against China, the need for protest action to stop this is more urgent than ever.
This planned war against China is only one component of the United States' overall war against humanity, upon which it embarked in 1945, following the end of the Second World War. One estimate of the cost, so far, of this war - in Korea, Vietnam, Africa, the Middle East and elsewhere - is 20 million lives.
Protestors will also be calling on the Australian government to act to use the power vested in it to end the illegal imprisonment and torture of Julian Assange by the UK government and also to prevent the US government's no-less-illegal efforts to have him extradited to the US to face trial before a kangaroo court and thence imprisonment in solitary confinement for the rest of his life.
If you are free in six weeks time, on the afternoon of Saturday 18 March, please be there at the State Library at 1pm to add your voice to those opposed to the United States' war plans and to the Australian Government's apparent collusion in this criminal enterprise.
Please also consider helping to promote the protest through social media, including Facebook, Twitter and Instagram or by handing out leaflets.