At Woodford Folk Festival, 28 December 2022, Prime Minister Albanese spoke about how democracies all over the world are coming 'under attack from a whole range of corrosive, insidious forces' and that 'no-one is immune' (see Appendix 2 below). He also said that by next year there will be an indigenous voice in parliament. Well, that's good, because Australian First Nations gave Assange an Aboriginal passport in 2012, so perhaps that means that Parliament will finally allow discussion of Assange's plight in 2023.  You can download PDF & ODT versions of this article as a pamphlet to distribute.)
This year our parliament must be made to debate what it is going to allow to happen to Julian Assange. There are 40 members of parliament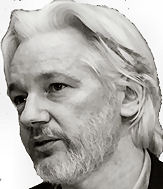 who want to put a motion calling on the Australian government to use the power vested in it to make the United Kingdom end its illegal imprisonment of Julian Assange and allow him to come home to Australia.
If the other members of Parliament believe that those 40 members are wrong, then why can't they just explain why on the floor of parliament, in the course of such a debate?
Whatever their reasons, it is clearly not good enough in what purports to be a parliamentary democracy for the opinions of those within the parliament who support Julian Assange to be suppressed, their voices all but unheard.
The Australian Parliament will be sitting again on 6 February. Those within the Australian community and the international community must do all they can to make their parliamentary representatives at least allow this issue to be formally discussed. It can best be discussed by allowing a motion in support of Julian Assange to be put and thence debated (see Appendix 1 below). This is what independent Senator Andrew Wilkie attempted to do on 2 December 2021, however the 'procedural motion' to allow his motion to be put was outrageously voted down.
It is urgent that when Parliament meets again on 6 February 2023, a procedural motion be put to suspend Standing Orders to allow Andrew Wilkie's motion, or an updated version, to be put to the house – i.e. to actually be debated.
This time, should the procedural motion be lost again, then a 'division' should be called for (which means showing the public who voted which way), so at least then the Australian and global public will know which members of Australia's parliament support free speech and which are opposed.
Most likely, with the prospect of the public knowing how they voted, parliamentarians would realise that there could be political costs to them if they voted against such a motion, and would think seriously about first, allowing the motion to be put, and secondly, voting for the motion.
Should the motion be carried, then Prime Minister Anthony Albanese, Foreign Minister Penny Wong, and Attorney General Mark Dreyfus, would then be obligated to use the power vested in them to contact the British Government and demand that Julian Assange be released immediately.
Given that Assange's imprisonment is illegal under international law, and even British and US law, the UK would have no choice but to rapidly comply, and Julian would be a free man again.
Should Assange's parliamentary supporters finally succeed in having the motion put, but it not be carried, or even if the motion is not put, we must work out ways to continue the campaign for Julian Assange, through protests and other means.
Appendix 1: Andrew Wilkie's foreshadowed motion of 2 December 2021
That the House:

(1) notes that:

(a) Walkley Award winning Australian journalist, Mr Julian Assange, remains incarcerated in HMP Belmarsh in the United Kingdom, despite a British Court earlier this year finding that Mr Assange could not be extradited to the United States of America for health reasons;

(b) the US continues to pursue Mr Assange and has recently been back in court in the UK appealing the earlier decision

to refuse the extradition;

(c) the reason for the US's determination to extradite Mr Assange is limited to Wikileaks' exposes in 2010 and 2011 of US war crimes and other misconduct in Iraq and Afghanistan, and in Guantanamo Bay, including the release of the 'Collateral Murder' video in which a US helicopter in Iraq gunned down innocent civilians including journalists;

(d) recent revelations in the media show the Central Intelligence Agency developed plans to abduct and assassinate Mr Assange; and

(e) the continuing incarceration of Mr Assange, and any extradition to the US, would not only be a grave injustice but a severe threat to his health and life; and

(2) calls on the Prime Minister to:

(a) speak directly with his counterparts in the US and UK to bring an end to this madness, including the US dropping all charges against Mr Assange and the UK allowing his immediate release; and

(b) commit to not allow the extradition of Mr Assange to the US from Australia.
Appendix 2: Anthony Albanese's 30 minute talk to the Woodford Folk Festival on 28 January