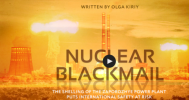 Update, 9/2/23 : An evil man will burn his own nation to the ground to rule over ashes." As shown in the RTD (Russia Today Documentary channel) video embedded below, the Ukrainian army, presumably under the orders of President Volodymr Zelensky, has, since September 2022, been firing artillery shells and launching rockets at the Zaporozhye nuclear power plant from the opposite bank of the Dnepr river.
(Please note, the video below can only be viewed in a different Firefox window at https://rtd.rt.com/films/nuclear-blackmail/.)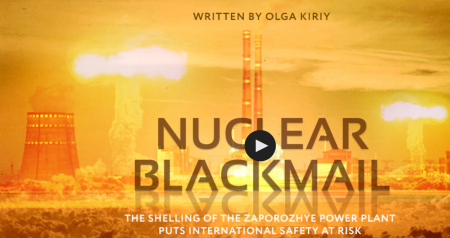 If radioactive waste storage containers had been hit, Zaporyzhye and surrounding regions could have been contaminated by that waste. Had the nuclear reactors, the cooling towers, or any of the infrastructure necessary to keep the cooling system operational, been damaged by this bombardment, a nuclear meltdown could have occurred. This would have resulted in radiation sickness amongst those close to the Zaporozhye power plant and considerable radioactive contamination for a high proportion of populations of Ukraine and of the nearby regions of Russia. A substantial proportion of the population of Europe could have also been contaminated. The number of people affected would have numbered in the many tens of millions.
So, even from the point of view of Ukrainians, whom President Zelensky is supposed to be defending against 'Russian aggression,' the bombardment of Zaporozhye is, at best, an act of criminal stupidity on his part or, at worst, a deliberate attempt at mass murder.
Given this fact alone, how could any informed Ukrainian want to continue to live under Zelensky's rule?
Zelensky has a 'kill list' which includes a 13 year old girl, Roger Waters (of Pink Floyd), and former weapons inspector Scott Ritter.
Although he was elected as the peace candidate in the 2019 Ukrainian Presidential elections, President Zelensky has continued with his war against Russian speakers in the Donbass region. This has caused the needless deaths of many thousands of Ukrainian, as well as Russian, soldiers. Zelensky has incorporated the Nazi Azov battalion and the Right Sector into the Ukrainian Army and has closed independent newsmedia. He and other members of his regime have shown themselves to be phenomenally corrupt.
It is not conceivable that the Russian government could hope to negotiate a settlement to the conflict with Ukrainian President Zelensky in good faith. The only way that the Kremlin could hope to achieve peace in Ukraine, as well as safeguard its own national security, is to demand the unconditonal surrender of the Zelensky regime.
After Zelensky's surrender, new elections, presumably without any Nazi candidates, could be called. These elections could be verified by international observers as occurred for the Syrian Presidential election of 2014.
An evil man