I was honoured to have met the Syrian Foreign Minister Mr Walid Mouallem yesterday in New Delhi. Also present was the Syrian Ambassador Mr Riad Abbas and a host of other Indian and foreign dignitaries and veteran journalists. Mani Shanker Aiyar, the veteran Parliamentarian is also seated to the right, at the table in the photogram.
A high powered Syrian delegation has been present in Delhi, where the Govt of India has supported the Syrian-Russian position, that the Syrian crisis must be resolved by Syrians alone through a process of dialogue, constitutional reforms and elections. The Syrian delegation met the Indian PM Narendra Modi, the Foreign Minister Ms Sushma Swaraj and the National Security Advisor Ajit Doval.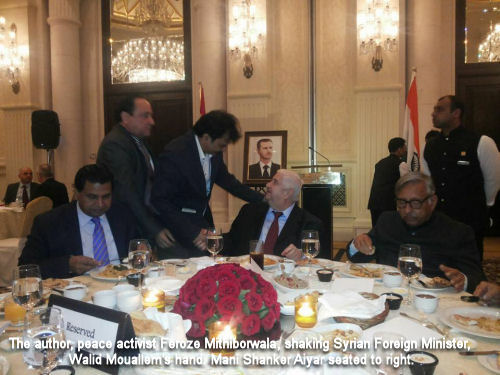 The two governments share a common political position and have decided to exchange Intelligence on ISIS and other terrorist organizations. On the economic front many agreements have been reached and Syria sees India as a major contributor to the growth of the Syrian economy, even in the current crisis, but especially in the post-war reconstruction phase, in the sectors of Energy, Agriculture, Food Grains, Infrastructure, Pharmaceuticals and other sectors.
The Syrian delegation was earlier in Moscow and Beijing before they arrived in New Delhi, as part of the international diplomacy prior to the Geneva Talks scheduled for the 25th of January 2016.