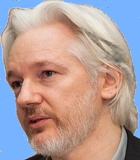 Update 28 Apr: Follow RFK Junior's campaign on Twitter. Less than 3 days ago there was a surprising and welcome development in the unfolding contest for the Presidential election to be held on 5 November 2024. On the morning of Friday 21 April, less than three days ago, Robert F Kennedy Junior (RJK Junior) the nephew of President John F Kennedy (JFK), asked of Republican supporters of former President Donald Trump, why he "imprison[ed] Julian Assange" and of Democrat Supporters of sitting President Joe Biden why "your candidate persist[s] in Trump's prosecution of the most consequential journalist of the 21st century? " He did so in the tweet embedded below:
Robert F Kennedy Junior, is the son of Robert F Kennedy (RFK) and the nephew of President John F Kennedy (JFK), both of whom were slain in circumstances that seemed, at best, highly suspicious. For that alone, RFK Junior's announcement that he is seeking the nomination of the Democratic Party to contest the 2024 Presidential election is highly courageous.
RFK Junior has rightly drawn to the attention of American voters, the despicable conduct of the supposedly 'anti-establishment' former President Donald Trump. As he was campaigning for President in 2016, Trump declared "I love Wikileaks" after revelations from Wikileaks damaged the standing of Hillary Clinton, his opponent from the Democratic Party. However, after Trump became President, he pursued Assange even more savagely than his predecessor, Barack Obama.
RFK Junior's support for Julian Assange shows that this time, all of humanity, as well as the citizens of the United States, truly have a stake in the outcome of the the 2024 Presidential elections, should RFK Junior become the endorsed Democrat candidate.
Humiliation inbound: Biden plans to skip the NH primary, which would likely give the victory to RFK Jr.

Momentum is the name of the game and RFK Jr. would have all of it heading into South Carolinahttps://t.co/LQPD4q0GXP

— DC_Draino (@DC_Draino) April 27, 2023