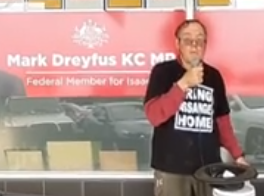 From 10am until 12pm tomorrow, on Thursday 6 April, outside the electoral office of the Attorney General Mark Dreyfus in the south-eastern Melbourne suburb of Mordialloc, supporters of Julian Assange will be protesting to demand that the Australian government act to end the British Government's imprisonment of Julian Assange.
The Attorny-General Mark Dreyfus, as the most senior legal officer in Australia, must surely be aware that the British Government's imprisonment of Assange, who has broken no British or Australian law, in solitary confinement for 23 hours per day, is in violation of British law, international law and the First Amendment to the US constitution which guarantees the right to free speech. I would be most interested to hear from Mark Dreyfus, himself, why the Australian government has chosen not to act to end the illegal imprisonment of Assange, but I expect not to be given this opportunity.
Please come along to hear speeches, hold banners or hand out leaflets.
Speech: Why won't the Australian Government act to end the illegal imprisonment of Assange?
The video below, shows myself speaking at an earlier protest at the same location on Monday 27 February. In my speech, I make two critical points: (1) that the Australian government could end Britain's illegal imprisonment of Julian Assange today but has chosen not to; and (2) that, so far, there has been very little discussion about Assange an the floors of our Parliament and this should change.