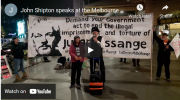 The denial of Julian Assange's liberty in London for almost nine years since June 2012 and, more so, his imprisonment in Belmarsh prison since April 2019 in solitary confinement for 23 hours per day, is against British law and International law. Had the Australian government chosen to use its authority, it could have long ago ended Julian Assange's ordeal, got him out of prison and back to Australia, to be with his two children and their mother Stella Moris.
Instead the Australian government chose variously to do nothing or else to smear Julian Assange.
On 12 April last year a number of Australian parliamentarians began to speak up for Julian Assange. Some even personally visited Julian Assange in prison. John Shipton, Julian Assange's father puts their number at 28, speaking in a video about his "Bring Julian Assange Home" tour. [1]
In spite of this sizeable number of members of the support group, and in spite of the massive support for Julian Assange in Australia and across the world, the Federal Government has yet to be properly held to account before the Australian people for its abandonment of Julian Assange.
The reason for this is that, as far as I can ascertain, the only avenue so far used by members of the Support Group to raise the issue of Julian Assange, has been Question Time in either of the two houses of Parliament. This consisted of an exchange between Greens Senator Janet Rice and Foreign Minister Marise Payne, on 25 March, on the subject of Julian Assange. That exchange lasted only 2:17 minutes, and much of that time was wasted with Marise Payne's obfuscation and shouting down Janet Rice.
From this, it seems that avenues other than Question Time should be used by the "Bring Julian Assange home" support group.
The most obvious alternative is to put a motion requiring this government to act in support of Julian Assange, to the floor of either The Senate or the House of Representatives. Even if the numbers of the current Australian Parliament will prevent such a motion from being carried, then at least putting such motions would give supporters of Julian Assange far more time to put their case both to Parliament and to the broader Australian public through social media and blog sites, such as this one, https://candobetter.net. For the Parliamentary Support Group not yet to have done so appears to be a terrible oversight.
The correspondence included, below, as an Appendix to this article, included two motions I have asked members of the Parliamentary Support Group to put. I wrote the first on 29 March. As far as I can tell no member of the Support Group put that to Parliament.
The House of Representatives is meeting later today (Tuesday 1 June 2021), Wednesday and Thursday. Please contact one or more of the Senators and Members of Parliament #bringAssangeHomeGroup">listed below and ask him/her to to put to his/her House the motion included below in my letter of 24 May to Senator Andrew Wilkie.
My e-mail of 24 May to House of Representatives members of the "Bring Julian Assange Home Parliamentary Group"
Dear member,
I am sending you this e-mail in which is enclosed a copy of an e-mail I had sent very early yesterday morning to Andrew Wilkie. I am sending this to you because your name was included on a list of Australian Parliamentarians who have spoken up for Julian Assange.
As you would understand, Julian Assange's circumstances make this issue urgent. Quite possibly his health has been irreparably damaged by his long imprisonment and neglect. He could well die if he is not released or, at least, given urgent medical treatment for his conditions including terrible tooth abscess.
The included letter to Andrew Wilkie includes a request to put, to the House of Representatives, a motion which calls upon the British government to quickly expedite, in a manner more transparent than was previously the case, all outstanding legal matters concerning Julian Assange. Furthermore, should the British government not do so, the Australian government should be instructed to take this issue to the United Nations and the International Criminal Court.
I believe this motion should be put to allow this vitally important issue to be more adequately discussed and scrutinised, than for example, the very short (2 minute, 17 second) exchange between Senator Janet Rice and Senator Marise Payne of 25 March (see /node/6093 for video and transcription of the exchange).
I believe that if the Australian government was resolved to help Julian Assange it could, in very little time, before world public opinion, and with the option of recourse to the United Nations and the International Criminal Court, make the British government release Julian Assange from Belmarsh prison and also make the US abandon its outrageous attempt to extradite Julian Assange to face the rigged Grand Jury in the eastern district of Virginia.
Surely, in a functioning democracy, the Australian government should be held to account for failing to meet up its basic obligation to uphold the rights of Julian Assange. Unless my proposed motion, or something similar is put to the House of Representatives, the Senate or both, I think that holding the Australian government to account for this will prove to be much harder.
Thank you for reading this.
Yours faithfully,
James Sinnamon
Enclosed Letter of 23 May to Andrew Wilkie
Dear Andrew Wilkie,

My Apologies for this late notice, but I only realised not long before midnight that the House of Representatives will be sitting again later today.

Just for now, I am sending copies to other members of the House of Representatives who have previously shown their support for Julian Assange. Later today, I will also send copies to Senators who have also shown support as well as any other supporters in the House I may have missed.

Some time during the next four days sitting of the House of Representatives, could you please put the following motion:

This Parliament finds it unacceptable that Australian journalist Julian Assange, who is not guilty of any crime, continues to be held in London's Belmarsh prison in solitary confinement for 23 hours every day, whilst those who started the 2003 Iraq war have yet to be held to account for this crime against humanity.

Accordingly this Parliament calls upon the British government to immediately expedite, and in a more transparent fashion than previously, all outstanding legal matters concerning Julian Assange including his own appeal against his continued imprisonment.

Should the British government fail to do so, this Parliament instructs Prime Minister Scott Morrison and Foreign Minister Marise Payne, as a matter of urgency, to raise this at the United Nations and at the International Criminal Court.

?

Please feel most welcome to draft a similar motion if you think you can improve upon my wording.

As you will surely appreciate, this is a matter of utmost urgency, given the state of Julian Assange's health and given the stated resolve of the United States government to appeal Judge Vanessa Baraitser's ruling against the extradition of Julian Assange.

Whilst it now seems unlikely to me that such a motion would pass either in the House or the Senate, I still believe that having this debated on the floor of either or both houses of the Australian Parliament would enormously lift the profile of the International campaign.

Also, I think it will most likely increase the public support for those who speak and vote for such a motion and will have the opposite effect on those who oppose the motion or abstain.

I include below, as an Appendix, another proposed motion, which I sent to you and other supporters of Julian Assange on 29 March. As far as I am aware, that was not put, which I think is unfortunate.

For further information about my own efforts to free Julian Assange, please look at /JulianAssange/.

I will endeavour to contact you and the other recipients of this e-mail later today. If you want to contact me, I can be reached on 0412 319669.

Thank you for having read this.

Yours faithfully,

James Sinnamon

Appendix: My earlier proposed motion of 29 March on Julian Assange

Noting that multiple award-winning Australian journalist, Julian Assange, who has committed no crime against British or Australian law, has been illegally detained and psychologically and physically tortured by the British government since 19 June 2012, firstly until 11 April 2019 inside the London Ecuadorian Embassy, and, after that, in solitary confinement for 23 hours per day in Belmarsh Prison, this House/Senate requires Scott Morrison to use all his authority as Prime Minister to demand of British Prime Minister Boris Johnson that he immediately release Julian Assange and facilitate his return to Australia or to any other country of his choosing with his wife Stella Moris and his two children.

 

Should the British Government refuse to release Julian Assange, this Parliament instructs the Prime Minister to ask the United Nations to act for Julian Assange's release and, should it be necessary, to put the case to the International Criminal Court.

Whilst Julian Assange's father John Shipton said on 24 April that there are 26 members of the "Bring Julian Assange Home" Parliamentary Support Group before Peter Khalil joined, I only count 24. (In my opinion, this is still more than enough to make this government pay dearly for its unconscionable refusal to stand up for Julian Assange). I would be most grateful were anyone to supply me with the names of other members of the Group - JS, 14/6/21.

House of Representatives members and supporters

 

 

Senate members and supporters

 

Footnote[s]

[1] See "John Shipton speaks at the Melbourne Vigil for Julian Assange, Flinders St Station, Fri 21 May 2021," video at https://www.youtube.com/embed/ifucM7rMcfw. It is difficult to know for sure the precise count of the number of members of the Parliamentary Support Group for Julian Assange. One list, divided into members of the House of Representatives and Senators is included above. I think I recall a hearing that the count was 28.

John Shipton is currently in Miami, touring the United States to put to the people of the United States, the case for why his son Julian Assange should be freed from his illegal imprisonment in London and not extradited to the United States