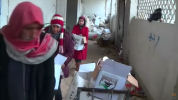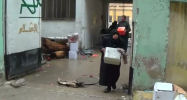 Two videos: Day after day, they are discovering piles and piles of food, heating gasoline, medical equipment, and weapons in east Aleppo that are enough for hundreds of thousands to stay alive for years, coming from Turkey, Qatar, the US, and Saudi. Yet, they were stocking them and leave the civilians to starve, to keep the lies on the Syrian government and blame it for all the starving of the people.
These piles of wheat might be enough to feed all Syria!
and this is a short clip from Reuters, however I didn't find the original source.