See five day correspondence seeking help for cow and calf inside this article. A cow has died because an animal lover could not get any help to save this cow from the so called "protectors "of our animals that have the privilege to enforce an act of parliament called the Prevention Of Cruelty to Animals Act in this state (Department of Agriculture and Water Resources Victoria) and a charitable organisation that relies on donations and bequests to survive. The cow and her calf were on a property at Calder Highway Charlton in a ploughed-over paddock completely void of any vegetation. No feed, no water. Pictures show the dam was bone dry! No apparent care. Minister Jaala Pulford's Department of Agriculture and Water Resources Victoria was repeatedly contacted, but there was no response at all. Answers are still being sought from Department of Agriculture and Water Resources Victoria, RSPCA and the state government as to why this animal was allowed to die and why it took 5 days for them to attend and why there is no prosecution pending and how their investigators make up their minds so quickly, apparently without reviewing evidence supplied by the courageous lass, Leesa, who tried to care for the animals and whose email correspondence forms the bulk of this article. A senior vet apparently told Leesa that they would not be prosecuting the owner due to not having enough evidence. Look at the pics taken by Leesa to decide for yourself. - Barrie R. Tapp, Senior Investigations for Animal Cruelty Hotline Australia: 0409144803 or free call 1800751770.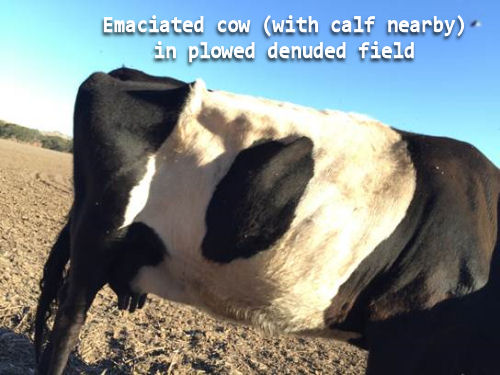 See below the email record of correspondence on this case by Leesa, who cared for an animal and stayed with it fed and watered it until it died after a struggle trying to get some help from the department that we depend on to help animals in distress the Department of Agriculture and Water Resources Victoria! Her calf is still there no feed/water only that Leesa is attending as much as she can. Will some body please help her? We wrote to the minister Jaala Pulford and the Premier and any one else that might listen and sent numerous emails to no avail until on Monday the Department of Agriculture and Water Resources Victoria attended, saw the cow dead and informed Leesa that there wont be any prosecution of the owner - "no evidence"!
Correspondence Subject: Charlton Cow Neglect
Date: Mon, 19 Oct 2015 22:10:08 +1100
Subject: Charlton Cow Neglect
From: leesanne[...]
To: Horseman [...]
"Wednesday October 14th – Drove past the paddock in Charlton and noticed the Cow and her calf were close by the fence and I noticed her severely emaciated condition whilst driving and stopped to take photographs. After returning home I immediately went to the local council Buloke Shire in Wycheproof and alerted them to the situation and showed the photographs. I was told that the ranger would look into it.

I went back to the property and took a couple of buckets with water and a bale of hay. The cow drank all of what little water I provided. The paddock is ploughed and provides no food for the animals. At this point, I gave her a name Bell – and Bella her calf.

My reason for the name is that perhaps if she had a cow bell on, someone else may have noticed her. Only I did though.

Thursday 15th October – 37 degree day - I returned to the property with a larger bucket and provided more water for the Cow however she was far in the distance and probably would not notice it was there. I stayed at the paddock for 3 or so hours and noted there was little movement from the Cow. She stood for short periods walked a few meters at most and sat back down again. I entered the property and checked the dam and the water container – both dry and appeared to have been so for quite some time. So no food and no water.

Friday 16th October – I returned to the paddock to check on the Cow and calf and see if the container of water had been accessed. It hadn't and the Cow was sitting down in the same area as the day before. I called the Buloke shire and asked if the Ranger had been out to check as I had not heard anything. I was informed that he emailed me. I checked the email whilst at the paddock and [...] the ranger told me told me to contact the RSPCA or DELWP as they are the appropriate authorities to deal with this "issue".

Whilst at the paddock I informed the RSPCA of the issue and enclosed photos. I also contacted the DELWP and they told me they would look into it. Numerous times I had stated that there was no food and no water and this cow is in a critical condition.

RSPCA email me that night and state there is a job number 282469 – and the information has been forwarded on to the relevant inspector.

Saturday 17th October – RSPCA call me Saturday morning with more questions regarding the Cow again I state how critical it is and nothing has been done. RSPCA call me again – unfortunately I missed it and Sarah Johnson RSPCA inspector stated in the message that the relevant department of agriculture are aware of it and it's taken care of.

On my way home from Volunteering at Edgar's Mission I stop by the paddock again. 7:20pm the water still not touched. I noticed that the cow was down again very close to the same position the day before. I left my vehicle and entered the paddock and I ran to where she was. Dead. I fell in the dirt crying and apologising I tried so hard to save her. I called one of the staff members at Edgar's Mission and asked what I should do. He called Pam Ahern [Edgar's Mission] for me as I was too upset to talk. Pam Ahern sent me a message to contact you (Barrie Tapp from Animal Cruelty Hotline Aust.) and seek assistance.

I relay the information to Barrie and he contacts the DELWP. Barrie calls back and advises me [a veterinarian] will be calling me back very shortly [...]. It's now past 8pm the sun is setting and I am still sitting the dirt upset that all this could have been avoided. I take a closer look at the Cow and her head is lying in a pool of blood that has come out of her mouth and nose. This has been a cruel and painful death her struggle can be seen in the dirt. Her poor baby has stuck by her side trying to wake her up. I call Barrie back as I hadn't been contacted. Barrie tells me to call the DELWP and speak to the gentleman. I call and leave a message with [the veterinarian] stating who I was and that I am expecting his call back urgently.

He calls me back and advises that the photos he has seen of the calf said that he will be fine until Monday and he will get somebody out there. I state that the mother is dead now after nothing has been done and there is no food and no water. He told me, haven't you provided water. I told him yes, but the calf has not ever drank water before and would not know where the small bucket is in the 100+ acre property. I tell him it is urgent! He says he will get someone out there tomorrow and will contact me and let me know what is happening.

Sunday 18th October – Haven't heard anything. That evening I do my 30 minute drive to the Paddock again to see the untouched water, the dead mother, the calf wandering aimlessly. I call [the veterinarian] and ask why he had not called me back. He proceeded to say that an inspector had been out and that everything was okay. (It's not okay, the calf is still motherless, foodless and waterless) He then said something about the inspector moving the water closer to the calf. Then later said he left it where it was as the mother would have shown the calf where it was and didn't want to move it. I told him the day before she never got to have any of the water and she would not know where it was! I'm repeating myself! He also said that they managed to get a hold of the owner who wants the calf still and will pick it up tomorrow – despite the fact that he has neglected them both.

Monday 19th October – 5:50pm I am by the paddock again. The calf is still there. I call [the veterinarian] again and state the situation all over again. Why has nothing been done!? No food no water! Mike says thanks for letting him know we will contact the owner again. If he does not do anything he will be charged. I said why will he not be charged anyway? The mother is dead! Mike says that there is no evidence of that. I cut him off and said excuse me? I have photographs, I have video footage, I have seen her, I can see her dead body right now! Mike tells me that no one else has seen it – relevant authorities – and that basically nothing will come of it.

I contact Barrie and advise him on whats going on and what Mike has told me and we contact the DELWP again and speak to a new inspector Cameron Bell. Cameron Bell said there isn't anything he can do tonight, he will contact [the veterinarian] in the morning."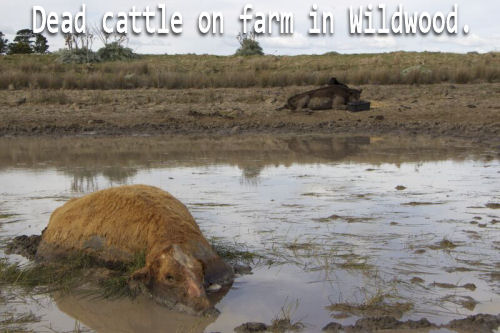 This is the second time in two months that a case of alleged neglect and dereliction of duty by a government department with a duty to protect them has been suffered by animals. Another case involved cattle at Wildwood, north of Melbourne where cattle drowned in dams and their calves were having to fend for themselves. The outcome of this case is still not known and Mr Tapp cannot find out due to "privacy laws". He says that numerous carcasses were found piled in a heap on the same property. He comments that animals do not benefit from these privacy laws! He calls for an independent animal welfare inspectorate NOW. He asks readers to please email their local member and get some action to help these animals and to press for prosecution. He adds that "This buck passing from RSPCA to DEPIJW has to stop as cruelty is cruelty." - Barrie Tapp.